Doreen Deacon (nee Holyoak)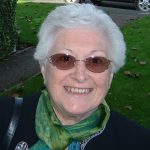 Doreen was Kibworth born and bred, she was the youngest of 6 children. She attended Church Langton School then working at Johnson & Barnes, then on to Gents, Kibworth and Leicester.
Doreen met Graham Deacon at The Royal Oak in the 50s and they married at Kibworth Church on 14 November 1959. They were married for 58 years, they had two children, Christine and Richard.
Doreen was very creative, baking cakes, knitting jumpers etc and amazing toys for friends and charities.
Doreen also enjoyed playing skittles and darts. She was Market Harborough Ladies Darts Singles Champion, her trophy was presented by well known darts player, John Lowe.
Doreen had a love for local History. With her extensive knowledge, she often had people contacting her, when they could not recall something from the past. She also helped the Chronicle with history information when needed.
Graham sadly died 4 years ago, and Doreen was reunited with him on 6 January 2022.
The family would like to thank everyone who attended the funeral service, sent cards, messages and made donations. £524 was raised for the Air Ambulance.
Christine, Richard, Anne.