Chocolate – Demonstration and Tasting by Tom Phillips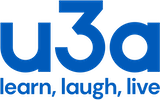 Tuesday 15 February, at 2pm at Kibworth Grammar School Hall.
Back by popular demand: Tom Phillips of Hannah's Chocolates, Quorn, is a wedding cake specialist and chocolatier having over 30 years of experience in teaching and practicing the art of sugar.
A former London chef and lecturer in catering, Tom has acquired national and international recognition for his work. He has won numerous awards and medals, including two international gold medals.
The Kibworth & District u3a is a vibrant, go-to social hub for great learning experiences and fulfilment.