Skegness Pier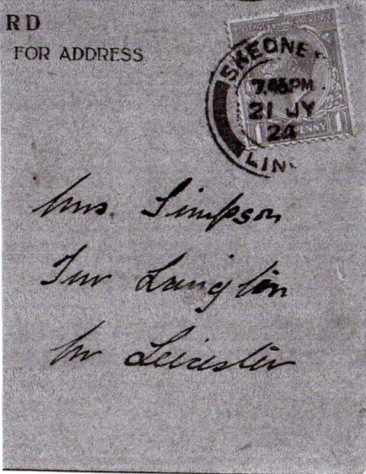 On 21 July 1924 at 7.46pm a postcard was sent by holidaymakers, who were staying at Byron House, Skegness. It was sent to a Mrs Simpson living in the Leicestershire village of Tur Langton, quoting minimal address details.
The postcard sent 97 years ago displays a 1d stamp with an image of King George V (1910-1936). On the other side it shows a picture of Skegness Pier that once stretched out into the North Sea. It was officially opened in 1881 by HRH Prince Alfred, Duke of Edinburgh, who was the second son and fourth child of Queen Victoria. A road opposite was named after the Prince to commemorate the occasion.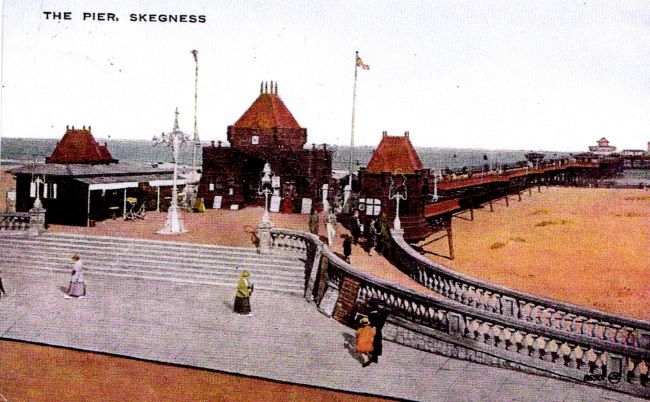 History of Skegness Pier
The length of the pier was over 1,800 feet. Unfortunately the structure had a few problems over the years. A small fire occurred in 1895, and in 1919 a schooner drove through the pier during a gale demolishing 150 feet of decking. A temporary gangway was completed later that year, although it wasn't finally repaired until 1938/39. The entrance saw a few alterations in 1929/30 and again in 1938/39. However, further developments were made with the installation of a new amusement arcade and bars in 1971/72. The pier was badly damaged again in a storm on 11 January 1978 when two large sections were washed away. As a result of this the theatre at the sea end was left isolated. The Skegness Pier Company decided to demolish this now unusable building and during this process, in October 1985, a fire broke out which completely gutted the theatre.
In July 2021 the Mellors Group stepped in and announced plans to restore Skegness Pier to its 19th Century glory. As a result of this, new generations of holidaymakers will be able to experience and enjoy once again some of the same excitement this imposing feat of engineering first offered to our Victorian ancestors, 140 years ago.
Glyn Hatfield