Kibworth Hugs
Dear Editor,
Kibworth Hugs
I just wanted to write in to show my appreciation to all those who have found the Kibworth Hug pocket tokens and have either kept them for themselves when needed, or passed on to someone else in need.
It has been so heart-warming to see the social media posts over the last year. In particular seeing how magical the process became. Often people found them when they needed them most or knew the perfect recipient for them at that time.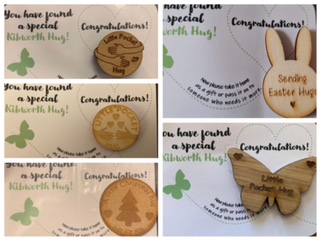 As I mentioned previously, I started this back in November 2020. I simply thought it would be an uplifting gesture to bring some much needed positivity when we couldn't even hug each other. Even I didn't plan how long I would continue doing it!
I loved how others adopted the idea too and so other forms of the 'Kibworth Hug' started springing up as well. It has been a joy to hide the tokens around the village and sometimes I've even been privileged to spot people picking them up!
To date I have hidden just over 600 tokens, which, whilst I realise is not even going to dent (excuse the local pun!) the current population of Kibworth, I feel that 12 months later is a natural time to stop. I have included Christmas themed ones, Easter themed ones and even butterfly ones to tie in with the village community schemes.
The End of an Era
With lockdown restrictions changing and some sense of a normality resuming, I feel that it is time for me now to let the Kibworth Hug token take a well-deserved retirement!
It's more than achieved what I hoped it would. In fact I feel that it brought a lot of the community together and so I'm grateful to all the villagers who got involved with finding them, taking them home, or passing them on (including all those who spotted me hiding them and didn't ruin the secret!). Simply thank you.
I will be hiding one final special Hug in the village as a parting gesture, so do keep your eyes peeled for that one.
Kibworth is a beautiful village and the fact that you got involved with finding and in some cases circulating the pocket hugs, is testament to that.
I'm glad they brought some light in sometimes very challenging and dark times.
Many hugs to you all!
Anonymous.
Xx