News from Smeeton Westerby
Summer News from Smeeton! With the Chronicle having a well deserved break for July and August, I must offer some dates for your diaries. As you may have realised, we here in Smeeton are always looking for events to bring our village together. We are also delighted to invite those of you from neighbouring villages too.
Barn Dance – Friday, 20 August
The first will be our Barn Dance on Friday 20 August. Our Barn Dance is to be hosted by Janet and Gordon Arthur at Highfields, 20, Gumley Road, Smeeton LE8 0LT. Highfields, Gumley Road is at the southern end of Pit Hill.
The dance is from 7pm – 10.30pm, led by the excellent band Bodgers Mate, who will also call the dances.
We will have our own bar serving Langton Brewery beers and Pimms. But if you would like other drinks, we ask that you bring your own. For food, we have a Hog Roast with vegetarian, vegan and child friendly options. The dance will be held in a marquee and there will be field parking. Any money raised will go towards the internal redecoration of Christ Church.
The cost of the tickets is £15 per adult and £10 for youngsters under 16. To purchase tickets please phone Philippa Britten on Tel:01162793841 or Tel:07748878027.
More Dates for Your Diary
Two of our next big events will be our:
Macmillan Coffee Morning on Saturday 25 September 10.30am until 12.00 noon.
Christmas Fair on Saturday 27 November 2.30 until 4.30pm.
If anyone would like to purchase a stall for either event, bake cakes or offer a raffle prize etc. please contact Janet Lord on tel:01162792810.
---
Chancel Roof Restoration, Christ Church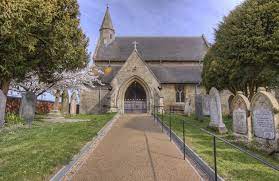 We are pleased to announce the renovation work to the Christ Church chancel roof has been completed. Thanks to the expert renovation by Pearce Roofing, the chancel roof has now been re- stored to its former glory. There is further information on the restoration at News from Smeeton Westerby 28th May 2021.
If you are out on a walk, or just passing Christ Church, please do come and take a look.
Janet Lord