Kibworth & District u3a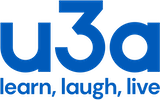 Kibworth & District u3a announces its next Tuesday Social on 20 July

Andy Smith's 'Sing a Century' talk will feature songs and instrumentals written and recorded over the last century. He sings at least one song from each decade. There have been some amazing songs written since 1920 – and on this talk, he features well-known classics – plus a few long-for- gotten gems!!

Now don't get too excited, but it might be live again in Kibworth Grammar School, so watch this space. If lockdown rules prevent this, it will be on Zoom.

In addition, many of our groups are in full swing meeting physically now.

For full info on the Kibworth & District u3a, check our website
www.kibworthu3a.org.uk
Michael Rodber