VASL….Support for Carers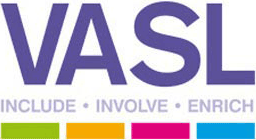 Good listeners wanted
VASL or Voluntary Action South Leicestershire is looking for volunteers to be good listeners
•Are you a good listener?
•Do you have some insight into the issues faced by unpaid family carers, or would you be prepared to learn?
•Do you have a few hours free every week?
We are looking to recruit some more Volunteer Telephone Befrienders within our Support for Carers project. You'd be asked to ring a handful of carers, who are all looking after a friend or loved one, at roughly the same time each week just to see how they're getting on.
Isolated Carers.
Our Telephone Befriending Service is valued by carers across Leicestershire who feel isolated in their caring position. Maybe they have no other family to talk to about their caring role, maybe they find it easier to talk to someone 'neutral', maybe they would just like a new friend.
Full training and Expenses.
Full training and ongoing support are given, and expenses reimbursed.
For more details please email liz.macmillan@vasl.org.uk or phone her on 01858 468543.
Hannah Currington