Kibworth Tin Bridge
Dear Editor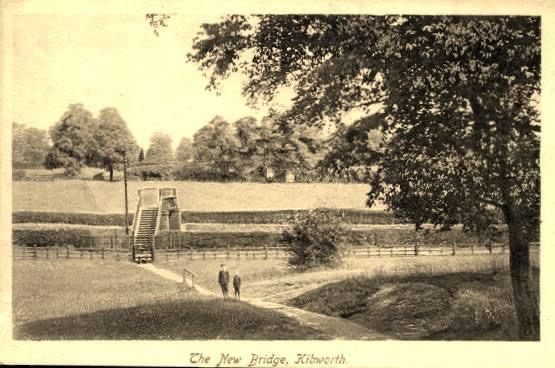 Kibworth Tin Bridge
On occasion I have the privilege of walking my granddaughter to school, and we use the Tin Bridge at the bottom of Meadowbrook Road. On these walks and on other lockdown walking exercise sessions, it has became apparent to me that this bridge is really not 'fit for purpose'.
Is the Tin Bridge now 'fit for purpose
Arguably, even when it was constructed decades ago, it was not the best design. The issues with it are obvious – there is no pushchair/cycle/disabled access to it, the steps are steep, open and dangerous in wet/snowy/autumn leaves times, it has no lighting and it has an open top across the main railway line. It might be old and quaint, but that does not help if you cannot use it. School Walk is an alternative crossing, but does it have to be the only one that is able to serve everyone?
Is the Tin Bridge safe?
I have seen folk struggle with pushchairs and cycles, and have waited while youngsters negotiate the steps. When it snowed, mercifully briefly, snow was not cleared from the steps and they were covered in ice, while in the autumn, wet leaves created a similar slip hazard. I have also heard of youngsters congregating on the bridge and even sitting on top of the parapets, which brings back memories of awful tragedies a few years ago.

There is understandable affection for the bridge as a local landmark, but that does not of itself justify retaining it in its current form, as it simply does not serve all of the village as it should. It is not possible to know how many people don't use it because they can't or how many people get in their cars and drive down to School Walk, round to Hillcrest Avenue or The Tithings, adding to the congestion in those areas.
The Bridge leads to the school
The bridge conveniently leads onto a path up to one of the school gates, although that gate is currently not used. It gives a right turn towards the School Walk path, or to the left to the extended new housing estate. A path across the top of the park linking the two school gates would make a lot of sense for parents with children in different year groups – assuming that post COVID, both gates will be used again.

We are attracting younger families with new housing developments, so it seems reasonable to address the impact the Tin Bridge has on mobility across the village. I have lived in Kibworth for 35 years, (yes, I know, less than some), and the accessibility issues concerning the bridge actually don't affect me at all. That does not mean improvements for the benefit of others should not be considered. It's easy to object to stuff that does not impact on us directly but, at a community level, the bridge cries out for upgrading.

The bridge is a local landmark. I have queried whether it can be adapted rather than being replaced entirely. It is, after all, a huge metal fabrication that might lend itself to having ramps put either side and the steps improved with a bit of engineering skill.
Your opinion on The Tin Bridge matters
I contacted Kevin Feltham to see if he could initiate the upgrading or replacement of the bridge and he has taken it up with Network Rail. There has been comment on the Kibworth Facebook page but if you have an interest in using, or being able to use, the Tin Bridge, please let Dr Feltham know.