Friends of Kibworth Theatre Company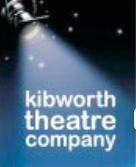 Be Our Friend?
The Kibworth Theatre Company is your local theatre group and a registered charity. We are a jolly gang of local people, who work hard with the talent we have, to bring great productions to the village. Once lockdown has been lifted finally, we will be working full tilt towards one of our next productions, ' The Vicar of Dibley', which is due for performance next year. We're also exploring other productions for the Christmas season. Watch this space for more information.
So, we are seeking any of our local businesses who would like to get involved in supporting this energetic and enthusiastic group. We're calling the scheme 'Friends of KTC'. A package of support could be supporting poster placement, flyers in your menus or promoting our production on-line. In return we will offer discounted advertising in our programmes and (of course) discounted tickets to all our productions. We could even look to do mini performances for your customers. That could be a lot of fun!
To have a young (and older) lively group like this is such a positive thing for our village, and is something I'm personally very proud to be a part of.
Want to get involved? Then get in touch. We will be delighted to have you as our 'KTC Friend'.
Many thanks,
Julie Allen
Publicity Officer
Kibworth Theatre Company. Julielindsayallen@btinternet.com