The Multi-Tasking Victorian
Discover the multi-tasking Victorian. Looking at the ornate bill of sale, below, I was surprised to learn how versatile our ancestors actually were. They often turned their hand to almost any assignment. By the design of the letterhead, it would appear that this company tackled most projects that came their way. The businessman, Edward Mason, was based in Kibworth and a noted builder, contractor and monumental mason in the area.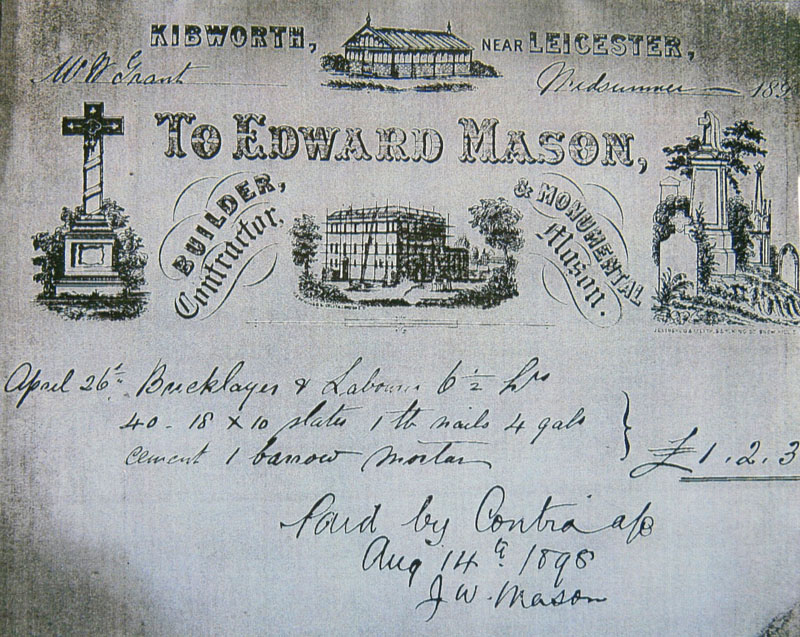 As can be seen above, he carried out work for a Mr Grant, and his invoice is dated 'Midsummer 1898'. The overall cost involved is listed as follows:
April 26th Bricklayer & Labourer 6 1/2 hours
40 – 18×10 slates
1lb of nails
4 gallons of cement
1 barrow of mortar
Total cost £1 – 2s – 3d (£1.11)

Interestingly the payment date is 4 months later, 14 August 1898, and paid in full by 'Contra account', whatever that means. The signature of J.W. Mason appears at the time the outstanding bill was paid, and I can only presume that he is a descendant of Edward.

I discovered that it was quite acceptable during 19th & 20th centuries, for builders to carry out diverse assignments. Including, for example, those now dealt with by undertakers, particularly in rural locations! Definitely a multi-tasking Victorian!

Incidentally, I managed with the help of a magnifying glass, to identify the printers of the builder's stationery. They were J.E. Virsh & Co., Lithographers, of King Street, Snow Hill, Birmingham. On a separate note, Edward Mason built the Lychgate at Kibworth Cemetery.

It would be of great interest if someone can confirm where the actual premises of Edward Mason were situated.
My grateful thanks to Ian Windridge for supplying this late Victorian piece of paperwork.
Glyn Hatfield