Kibworth Harcourt Post Mill
After seeing and reading the front and back pages of last month's Chronicle, I was pleasantly surprised to have a phone call the following week from a member of the Society for the Protection of Ancient Buildings (SPAB) Special Operations Team.  He rang to ask if I would attend a site meeting the following Monday, in my role as chairman of Kibworth Harcourt Parish Council, together with an officer from Harborough District Council, so we could have the repair work outlined and communication lines agreed to share details of the project as it unfolds.  I was pleased to direct the engineers from SPAB to the excellent article about the windmill on the Kibworth Village Museum website.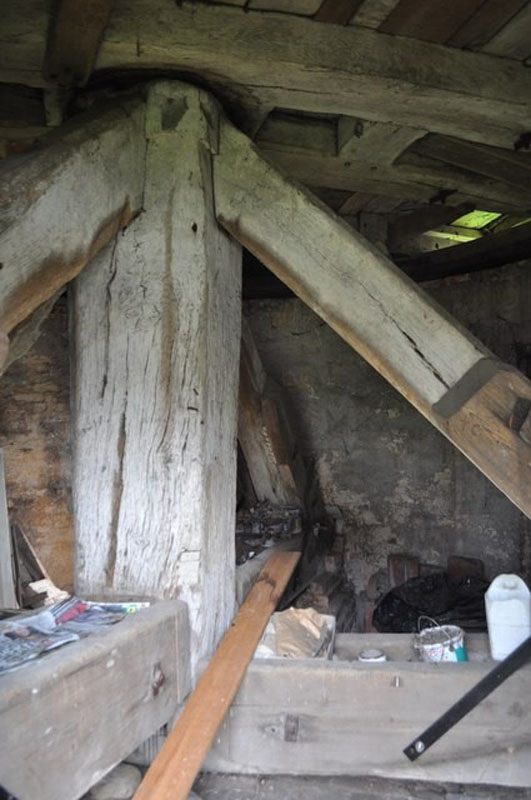 Our local 18th century Grade 2* listed post mill is the last survivor of some 211 post mills that were once spread across Leicestershire and it has become the primary school logo.
SPAB repair work
Like many others I shall be following the SPAB repair work this year as they repair and mount the sails after they have hoisted the main revolving body of the building up to ensure the bearings, that permit it to revolve and face the wind, are checked.
Another of the team that visited the mill on that Monday was a graffiti specialist.  Far from being another Banksy or street artist, this person will be amplifying and cleaning existing carvings and writings on the inside of the mill.
SPAB's involvement will end when the post mill is back in full working order later this year as they do not profess to be millers!  It would be excellent if we can manage to encourage some millers to come along and use the machinery again.  I also hope we can bring together enough volunteers to help with guided tours at pre-arranged times with the Windmill Farm occupants on what is private property.  I will be liaising with other local supporters of the windmill in our community over the next few months to see what can be pulled together.  If interested in learning more, please get in touch; kevinfeltham@leics.gov.uk
Kevin Feltham