There is a lot more to acupuncture than just needles!
When people think about acupuncture, one of the main images that comes to mind is needles. But there's a lot more to acupuncture than just needles! Other treatments including massage, cupping, guasha, herbal medicine and moxibustion also offered by acupuncturists. This is either alongside or instead of traditional acupuncture, and some treatments don't use needles at all to stimulate points.
Acupuncture is a well known as a safe and effective treatment. It uses needles to gently encourage the body's ability to heal itself. However, needles are just one aspect of an acupuncture treatment!
When you come for an acupuncture treatment your practitioner may spend up to two hours on an initial diagnosis, before they even think about picking up their needles. During this session you'll be asked questions relating to your physical health, your lifestyle, and your medical history. Your practitioner may also ask you about your work, your relationships and your family history. All of your answers help the practitioner build up a complete picture about who you are and why a particular health condition may have arisen. 
Many people find that just talking about themselves in a safe and confidential environment can be extremely cathartic in itself. For some, this process can be very emotional, and the first step in beginning to feel better. 
Once the practitioner understands more about you, they are then able to consider the best way forward for your treatment.
There are many treatment options an accupuncturist can offer.
There are many treatment options an acupuncturist can offer. These include massage therapies such as tuina – a Chinese style of massage that encourages movement in the body. They also include cupping, where suction cups are applied to specific areas of the body to provide relief. Guasha may also be available, where a special tool is moved across targeted areas of the skin. Some practitioners are qualified in herbal medicine and are able to recommend herbal formulas. These are to be taken alone or as part of an acupuncture treatment. You might also receive a moxibustion treatment, when a small pinch of the herb Mugwort is safely burned over the skin, with the effect of gently warming a specific acupuncture point. You see, an acupuncturist has many treatments in their toolkit that have nothing to do with needles!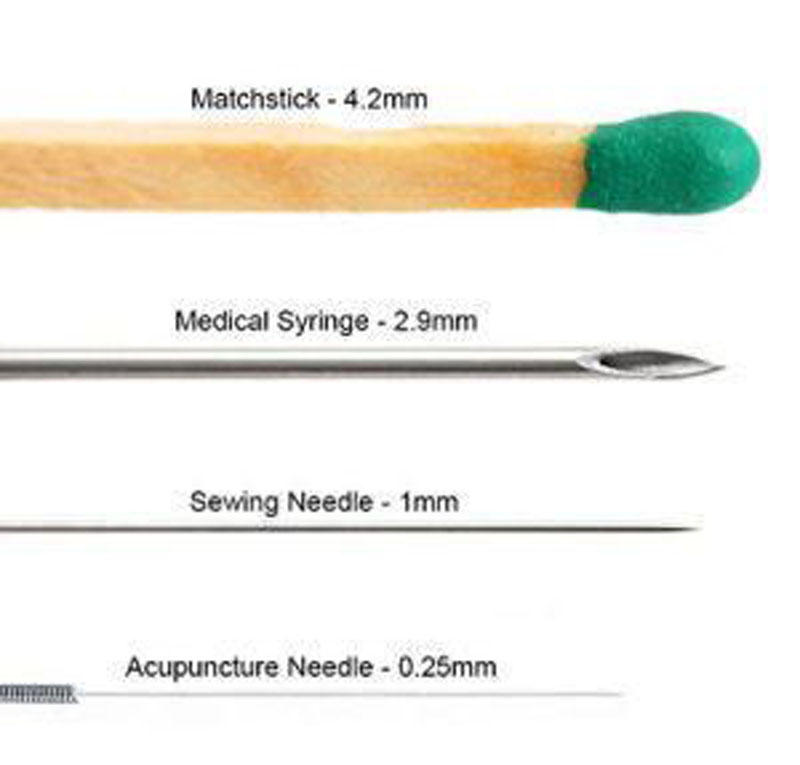 The actual size of an acupuncture needle is tiny!
If the fear of needles is holding you back from trying acupuncture you may be missing out on a therapy that can help you improve your health in many ways. The actual size of an acupuncture needle is tiny!
The ultimate goal of acupunctur is more than getting back to your old self, you may discover what you need to change to achieve optimal health and a richer meaningful life. 
If you are thinking about trying acupuncture here are some useful tips to help you decide:
By visiting the British Acupuncture website www.acupuncture.org.uk. Here you will find a list of fully qualified acupuncturist and research-based evidence for over 60 conditions; from anxiety, back pain, depression, endometriosis, headaches, P.T.S.D., stress, tinnitus and many more conditions. Talk with someone you know that has already had acupuncture and have an informal chat with your local acupuncturist as they are very willing to help you with any questions. Acupuncture providers continue to remain open as essential healthcare services.
Kerry Byrne