Kibworth Village Hall.
It's a family affair.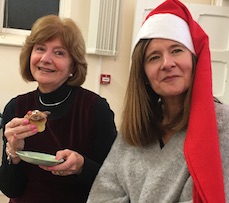 Last month we paid tribute to our longest serving volunteers, Jean and Charlie McCann.
The Rose Family.
This month we turn our lens to the Rose family, especially Paul, our current Chair of Kibworth Village Hall. We're sure that when Paul attended one of our committee meetings, to cover for wife Jackie, back in 2017, he wouldn't have foreseen being the committee's Chair six months later after the incumbent Katy Davies handed over the reins. He probably wouldn't have turned up either! 
Time in office.
Since his time in office Paul has instigated and overseen several refurbishment projects and, after the committee's many years of fundraising and securing grants, the hall finally had its dated loos brought into the modern world in 2020.  We're just sad that we've been unable to share the joy with the many village hall regulars but not long to go now we hope. Paul has been instrumental in resurrecting the Cinema Nights made popular back in the 1960s and pre-lockdown the hall was regularly full to capacity watching latest screenings and involving the next generation of (much) younger volunteers like Eliza, Maddy, Maddie and Lissy.  It's great to see all age ranges together although we've had a few 'bated breaths' moments at some film scenes in the past.
(Pictured above L-R Paul Rose, Jackie Rose, Sarah Cripps, Erica Parsons and David Jenkinson.
Mum-in-law!
As Chair, one of his roles is overseeing the role of Premises Officer. Not easy when that person is your mother-in-law, or in this case, probably fair to say, not easy for Josie! Josie took over the role of Premises Officer in 2017 and she had big shoes to fill after Nikki [Blount] left to focus on her fitness business and family commitments. Josie's drive and commitment are nothing short of inspiring, particularly as she spent of most of her life in Sheffield, only moving to Kibworth, with her late husband Ron, a few years previously.  Without doubt we couldn't function as well as we do without her hard work, determination and attention to detail. 
So, a huge thank you to the Rose family – three generations of helpers.
Sarah Cripps