Olive Marsden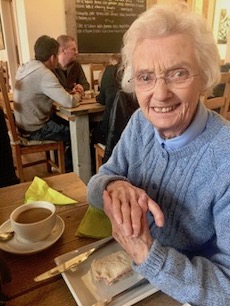 13 August 1926 – 8 December 2020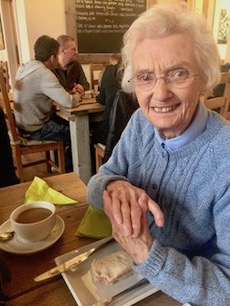 Olive was born in 1926 in Bristol, the eldest of five, her two sisters and two brothers still live there today. When the war started Olive went to work at the BAC factory in Bristol making engine parts for Spitfires. One day during the war, Olive and her friend took a day trip to Weston Super Mare, where a man in a fleet air-arm uniform caught her eye. They continued to write to each other until the end of the war, and once it was over Olive moved to Kibworth to be with Maurice.
Olive and Maurice were married in 1948 at St Wilfrid's Church. Their first son Stephen was born a year later. Maurice was a well-known member of the Kibworth community, working for George Lynn's greengrocers for many years. Four years later Graham, Olive and Maurice's second son arrived.
Olive and the community
When her boys were older, she became a housekeeper in Shangton, biking the whole way there. In her life she has volunteered; working with children with disabilities, helping out at the Methodist church and giving teas and lunches to the elderly community. Olive arranged the flowers in St Wilfrid's church for many years, always creating the most beautiful displays, something which she loved doing. She was a keen member of the Mothers Union and loved to meet her friends there.
Olive also loved to travel, visiting America, Singapore, Malaysia, Hong Kong and China where her eldest son now lives. She went on several coach trips all over the country with her good friend Cathy. This was always a highlight for her.
Olive lived most of her life in Kibworth, but she never lost her Bristolian accent. She loved her family, playing a huge part in her two granddaughters' lives, taking them to school, taking them away and has always been there for them.
Olive leaves behind five grandchildren and five great grandchildren. She loved spending time with them and thought nothing of playing cricket on the beach in Looe on a family holiday when she was well into her 80s.
Even when Maurice passed away in 2005, she kept herself busy and always wanted to help others in any way she could.
Olive was the kindest, happiest person you would hope to meet. Those who were lucky to know her would agree. She loved her life in Kibworth and always lived her life to the full.
Laura Wilkinson