Macmillan INFOPOINT installed in Home Instead premises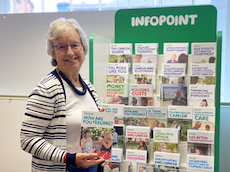 The Market Harborough Group of Macmillan Cancer Support was delighted when an INFOPOINT was installed in the Home Instead premises in St Mary's Road, Market Harborough. Information can be accessed without people having to travel to the LRI. 
Fund raising for Macmillan has been very challenging this year. Funds are needed to maintain vital Services for patients and their families living with cancer. To make a donation please visit https://macmillan-org.charitycheckout.co.uk/marketharborough/profile.
Eunice Loney (Chairman)
Market Harborough Group