Possible devolution changes to local government
The Government has announced its intention to publish a White Paper on Devolution and Local Recovery either this autumn or early 2021.
It is widely expected this will set out proposals for local government structural reform in England and greater accountability through the introduction of more elected mayors, along with setting out the role which greater devolution will play in our national recovery.
This would require the establishment of new unitary councils and a major reform of local government structures.
Local government reform was last carried out in 1997 when Rutland and Leicester City became unitary authorities leaving a two-tier system of a doughnut shaped Leicestershire county council and seven districts: Blaby, Charnwood, Harborough, Hinckley & Bosworth, North West Leicestershire, Melton and Oadby & Wigston.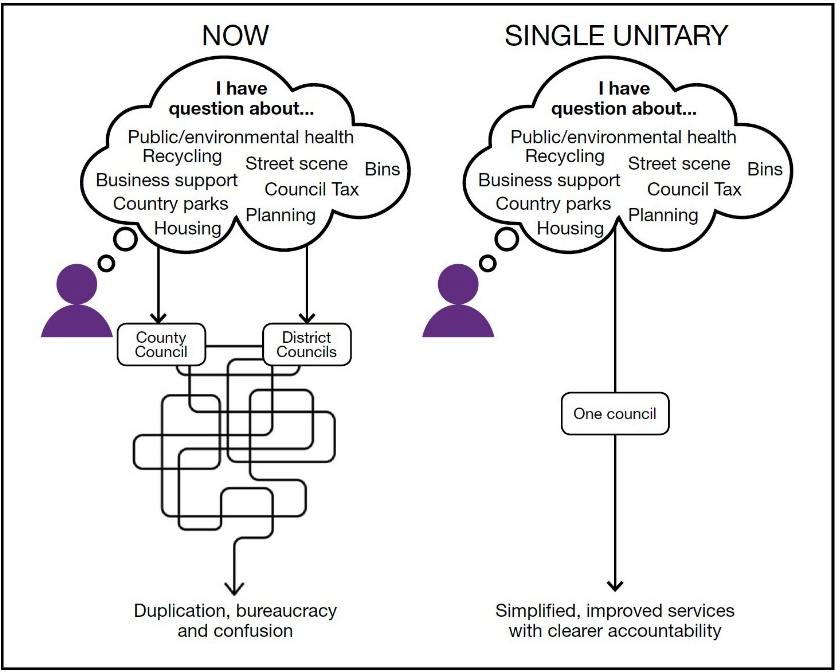 Along with other areas in the country, Leicestershire County Council has been working on a possible future structure for several years, and a draft business case was produced and scrutinised in 2019 and proposed the abolition of the county council and all seven districts.
A new unitary council covering Leicestershire would be created with local community committees for planning, and much greater liaison with parish and town councils. Leicester City would remain an unitary council as would Rutland County.
A growing number of unitary councils are being approved each year – Wiltshire, Durham, Cornwall, Buckinghamshire, Shropshire are just five examples of the 57 unitary authorities in existence.
Why are the changes being proposed?
Currently the two tier nature of local government in Leicestershire is inefficient in many ways.
For example – highways maintenance (potholes, resurfacing and painting white lines) are the responsibility of the county council, but roads and pavements are swept clean of litter and leaves by the district council; kerb side waste collections are by district councils, but the county council disposes of the waste.
In addition, servicing and managing seven district councils requires a senior management team for each one.
Leicestershire County Council, the lowest funded county council per head of population in the UK, has been assessed independently as the most productive (value for money) for three years running because they maintain excellent services while still managing to cut costs.
To abolish the county council and the seven districts and replace with a single unitary could save around £30 million a year by reducing duplication and a more efficient use of council tax, at a one-off cost of some £18 million.
What would be the difference?
All services would be run by a single unitary council, so instead of trying to work out who is responsible, you'd just go to one authority with clear accountability.
They would still be electorally accountable every four years, and the proposal by the county council is to have double the number of elected unitary councillors per current division, so 110 in total.
The role of parish and town councils could be boosted if they want to take on more responsibilities. 
And now what?
Nick Rushton, the leader of Leicestershire County Council, has now written formally to the Secretary of State for Housing, Communities and Local Government, Rt Hon Robert Jenrick, MP for Newark, asking him to invite the local authorities in Leicestershire to put forward proposals. He has said
"Residents want easy access to effective, joined-up services – and be able to shape decisions that affect their communities. The current set up is bureaucratic, expensive and confusing."
For now, council leaders across the county await any decision from the Secretary of State. Lots of views on the benefits or not of devolution are appearing regularly, but while the Covid-19 pandemic is affecting so many areas, it looks likely that a major readjustment of local government is still some way off. There are elections for the county council due on 6 May 2021.
Kevin Feltham