Gems Charity October update
Thanks to Tengo software we now have a great new logo and website where you can  make donations. We hope you like the logo and have a little look at the website, www.gemscharity.com.
The Clutter Sale was back and very successful, raising a fantastic £1582.60. Thank you all for your kind donations and coming along to support us. Many thanks to Sam, who has recently taken over The Railway Arms, for allowing us to hold it in the carpark.
Sam is supporting GEMS with great enthusiasm and we look forward to raising more funds with her and her team.
Sadly, the Kibworth GEMS shop has had to close due to Covid-19, but we hope to re-open a shop facility once things settle down.
Veronica and her team did a fantastic job in the shop raising funds and the profile of GEMS, we thank them very much for all their hard work, time and effort.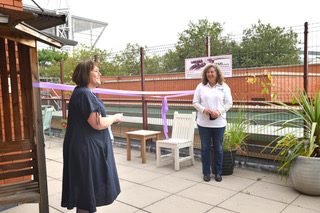 We recently attended the official opening of the large balcony at the Leicester Royal Infirmary (LRI). We are just waiting for the shading to be installed to complete this project, which cost in excess of £43,500.
Those who have donated over the last few years, you can see where your well-earned pennies have gone. It looks fantastic and patient feedback has been very positive.
We have agreed to refurbish a small internal balcony and to redecorate the treatment room, which will allow patients to be more comfortable whilst receiving treatment.
GEMS Charity has refurbished all three balconies at the chemotherapy suite at the LRI.
Recent donations
Recent times have prevented us from fund raising but we have still received donations from wonderful people and organisations.
To name a few, The Kings Head, Smeeton Westerby did a great job with plant sales raising a marvellous £800 and the Oadby and Wigston Lions Club have donated a fantastic £750. Although the fashion show organised by Francesca and the Kibworth and Fleckney Inner Wheel had to be cancelled they still donated a brilliant £950.
This is amazing especially with the year we have all just had, thank you very much to all our helpers, volunteers and everyone who has donated, large or small, it is very much appreciated. All donations will go towards our newly agreed projects at the LRI chemotherapy suite.
Stay safe and look after yourselves.
Sally Anderson