1st Kibworth Scouts – September Update
Kibworth Scouts were recently approached by Kibworth's Parish Councils to see if they were able to help support the Kibworth Get Active Day held on Sunday 6 of September on the Warwick Road recreation ground.
The Scouts were able to provide event shelters in case of inclement weather which fortunately were not needed and a temporary toilet.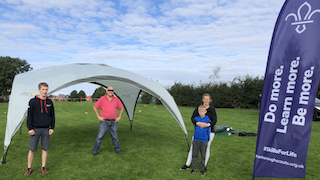 The council was happy to make a donation to scout funds for the assistance which will be used to provide equipment identified in risk assessments for a safe return to Scouting.
"Like many other activities scouting has had a difficult time over the past few months, but we are hoping to restart outside activities in the next week or two.

We have a very active Group in Kibworth with two Beaver colonies, two Cub packs and two Scout troops and we are always welcoming new members.

As an added incentive and as a thank you to those parents who have continued to subscribe over the past few months we have decided to suspend subscriptions until the new year. So it really is the best time to join in the fun and adventure!"

Sam Arnold, Group Scout Leader
"Sam and the other leaders are also working with the Council to undertake community litter picking to help keep the village tidy. Any adult help for a couple of hours a week is always needed. Please contact either myself chair@1stkibworth.org.uk or Sam gsl@1stkibworth.org.uk.

I would also like to thank the Chronicle for a recent grant which we are using to help ensure safe practices as we get back to face-to-face meetings"

Clive Wood, Group Chair
Clive Wood