Wistow Maze Closed this Summer due to the Coronavirus
The attached article, Wistow Maze Closed is an announcement received by The Kibworth & District Chronicle from Diana Brooks MBE.
"In the past, your magazine has kindly written about the award-winning Wistow Maze. It opens every summer from July to September to thousands of visitors.
Due to the coronavirus pandemic, we have taken the difficult decision NOT to open Wistow Maze this year.
It seemed impossible to us to ensure public safety and social distancing with three miles of pathways that are only 1.5m wide.
We had to make the decision now, as a maze design needs to be created, GPS co-ordinates worked out for mapping the pathways, the field prepared and the maize crop drilled, with all the associated expenditure that goes with it. Latest advice it will be many weeks or months before large ticketed tourist attractions can be re-opened.
Of all the 16 years of amazing designs we have had, the Ambulance design in 2018 (celebrating the 70th Anniversary of the NHS), couldn't be more apt for today.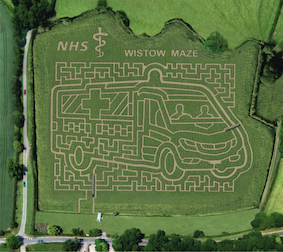 I look forward to being in touch again next year".
Diana Brooks MBE