Experiences of the Great War: George Simons of Kibworth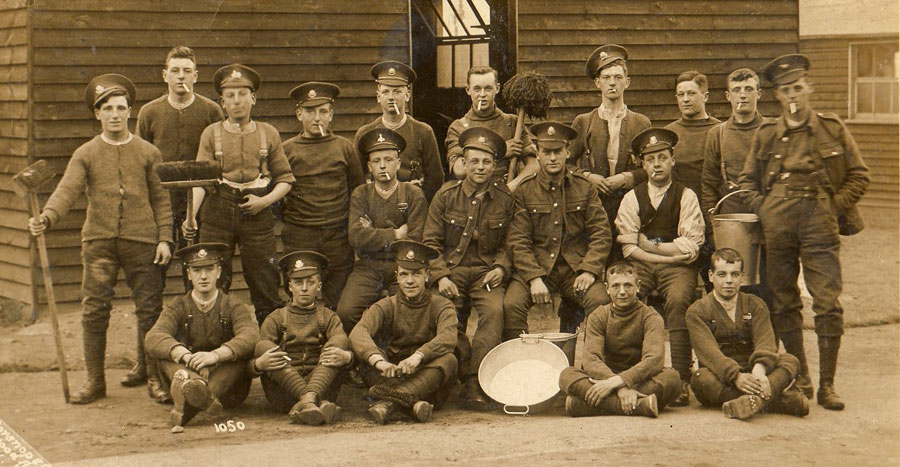 In response to the article in the December Chronicle about George Maynard Ward, Jill Holmes of Deeping St James writes that her grandfather George Simons was one the men he joined up with. George had his medical examination at Market Harborough in April 1917, ten days before his 18th birthday. He was in the Reserves until 16 May and next day enlisted in Leicester. Later the two men went their separate ways. Evidence from photographs suggests that George Simons did his training at Clipstone Camp near Mansfield in Nottingham. In 1918, after training, he was sent to Étaples in France and was posted to the 15/17th Battalion of the West Yorkshire Regiment. He later joined the 9th Battalion in the field. He came through the war unharmed and returned to England in February 1919 for demobilisation.
George was married to Stella Mattock in 1916 and, by the end of the war, they had a young son Leonard. Later the couple had a daughter, Nora, while living with an aunt in Fleckney and a son, Eric, while living in Clipston. (Eric was a frequent contributor to the Letters page of the Chronicle.) The family returned to Kibworth and ran an Off Licence at the corner of Buller Street and Fleckney Road. George was well known as a window cleaner and as caretaker at the National School on Station Street and, subsequently, the Junior School on Hillcrest Avenue. He was also caretaker of St Wilfrid's Hall. He lived in Kibworth until his death in 1978.
George Simons is pictured in the photograph above, fifth from right at back. The photo may have been taken at Clipstone Camp, Mansfield, Nottinghamshire. Do you recognise any of the other young men? If anyone can add to this story or identify any of the men in the photograph, please get in touch with Jill via the Chronicle.
JME