Band's performance shines
Dear Editor
I am writing to say how much we enjoyed the recent 'Last Night of the Proms' concert given by the Kibworth Band in aid of The Well.
It is a few years since we attended one of the band's Christmas concerts and the first thing that struck us when we entered the main hall at Kibworth Grammar School was how much the band must have grown in recent years. The stage was filled with chairs and those impressive large brass instruments that are too big to carry about lightly. When the band's procession came through, it was clear there were more members than we had seen in previous concerts and quite a number looked relatively young.
When they struck up their first tune, a tribute to Jack Peberdy, a former band master and named after the band hall in Halford Road, the roof of KGSH nearly lifted off! The sound they make together is incredible! A wonderfully varied programme followed in which the band demonstrated its ability to play smooth, harmonious pieces as well as rousing marches and classical favourites.
The musical director, Brendan Caddy gave the musicians a chance to recover from time to time by telling the audience about the band, its history and current activities. There were solo highlights by Isaac (age 15) on the tenor horn, Jacob on the soprano cornet and Alex (age 18) on the baritone horn. All three were note perfect and created a most beautiful sound despite their relatively young ages.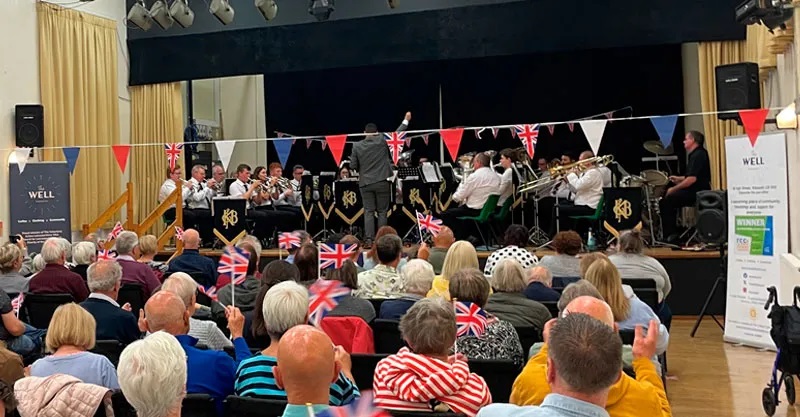 There followed an interval with tea and biscuits after which they launched into the Proms section, with standards such as the sea shanty medley, Rule Britannia and Jerusalem. The audience really responded with flags waved and choruses joined in heartily. The finale with Elgar's Pomp and Circumstance March No 1 was very moving and the audience demanded an encore.
All in all it was a thrilling and uplifting concert from a band at the top of its game. A thoroughly memorable afternoon! We wish them well for their forthcoming competitions and look forward to their next concert on Friday 16 December.
Carol Townend