The Fitness Box
New GRL PWR Classes
The Fitness Box located in The Manor in Tur Langton introduced its brand new female only classes GRL PWR in March. 
We are pleased to announce that it has been an amazing success. Classes filling up fast with female clients of all ages and fitness levels. All wanting to see improvements in their health and fitness.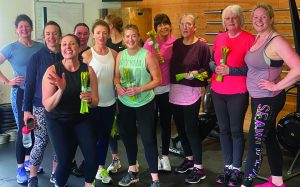 The GRL PWR Classes which follow similar methodology as our regular Functional Fitness Classes.
When: 9:30am on Tuesdays and Sundays.
Coach-Led & Indivudual
The GRL PWR Classes are run by the brilliant female coach Lou. Like our regular classes focusing on all round fitness, improving strength, mobility, flexibility and cardiovascular fitness. Whilst also having fun along the way!
Each Class is coach-led so you are in safe hands. All workouts and movements are tailored specifically to ensure each individual gets the very best out of each session.
With the summer holidays not long around the corner now is the best time to start. Whether your goal is to build strength, improve body composition, flexibility or just gain confidence in your physical ability then these are the perfect classes for you. 
Join Us
If you would like to join our great group of females and come along to GRL PWR. Or attend our regular classes.
Please contact The Fitness Box at info@thefitnessbox.co.uk or
Head to the website thefitnessbox.co.uk for more information.
Adam Fowler