Kibworth Community Library May 23
"If you have a garden and a library, you have everything you need" – Cicero
This quote from the Roman Statesman has been adapted from a letter he wrote. He actually said "If you have a garden in your library, everything will be completefor a productive meeting." Roman gardens were designed for thinking, philosophising and discourse. Cicero may have done a little too much of that as less than three years later he was assassinated on the orders of Mark Antony.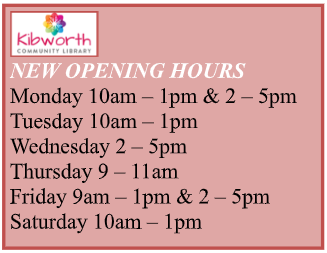 Annual Plant Sale
On Saturday 3 June we will have plenty for your garden in our library. Our annual Plant Sale will be on from 10am until 12pm. The plants have been lovingly grown by Chris, one of our trustees, and this year he has a fabulous collection on offer including annuals and beautiful herbaceous perennials. We literally have people queuing to get the bargains on
offer so make sure you get there early.
Sue Moorcroft's new book
The last few tickets are available for the launch of Sue Moorcroft's new book, An Italian Island Summer, on Tuesday 23 May. We will be celebrating with a glass of prosecco and some savoury snacks to get you in a Mediterranean holiday mood. Tickets are £6.
Knitting Workshop
Following on from Nicki Merrall's wonderful talk on all things knitting, she will be running a one-day workshop on Modular Knitting on Sunday 2 July at a cost of £60. Modular knitting, also known as domino knitting, is calming and relaxing and a great way to play with colour combinations and patterns. For more information and to book a place please visit her website at https://beingknitterly.co.uk/shop/modular-knitting-workshop/
As usual all details about events can be found on our website www.kibworthcommunitylibrary.org.uk or on our Facebook page.