The New Normal Cancer Support Group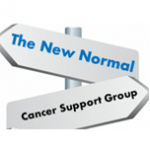 Our group continues to grow, and we are so pleased to see our members relax with each other and share stories together.
Recent Events
Over the past months, we have been visited by a dietician from University Hospital Leicester, had a fun Bingo evening and a trial 'chatter meeting'. The 'chatter meeting' allowed the group to sit, enjoy the free refreshments and discuss anything they like! The feedback from the group was all very positive and I'm pleased we will be repeating the 'chatter meeting' this month.
In June we are planning an evening at the Bowls Club in Kibworth. We are also having a craft evening in July. We hope to have another fundraising event in August in the form of cheese and dessert. Please keep an eye out on our social platforms!
Thankyou
Lastly, we would like to say thank you to everyone who donated a gift for our raffle that was held during April's meeting. We raised £100, which was lovely and will continue to fund our group. As always, we thank you for your support.
If you have any queries please do not hesitate to get in touch with us at thenewnormal.leicester@gmail.com.
---
For more about us, please see:
---
Aimee, Helen, Rachael