The Church Clocks at St. Wilfrid's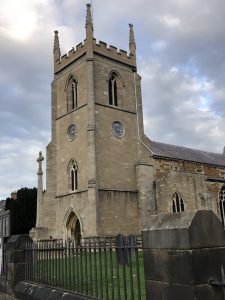 Clocks Working
Many of you will have noticed that the Church Clocks are working again. Over the last couple of years, due to COVID and funding challenges, it hasn't been easy to get the Clocks succesfully repaired.
The Friends of St Wilfrid's have worked tirelessly to raise funds. We've also had the very welcome financial help of a local clock repairer. You are now able to walk or drive past the Church and see what a great job has been done.
Wayne Francis, from Boston, was able to take on the project once he was able to source some gold leaf. Wayne has a fabulous reputation for repairing Church Clocks which we can now see at St Wilfrid's.
The photograph doesn't really do justice to the great workmanship that has been carried out. Do go up to the church and take a look?
We are extremely grateful to the donations received and the Trustees, in particular.
Roger Whiteway
Pat Darke
Rob Tidd
Clive Smith
Ann Davies
Elizabeth and John Cox and
Sonya Brown.
Special thanks must go to Klaus Heinrich who was brilliant with the ladder.
Supporting The Friends
We do hope that people of Kibworth and surrounding villages will support The Friends in the future. You can support The Friends by:
Giving a monthly donation
Concert Tickets
Tickets for the Concert, 3 February 2023 available from:
ticketsource.co.uk/lgsevents or
by phoning
Tel:01162792252, or
---
For more about The Friends, please see:

---
Anne Flower