Burton Overy Christmas Tree Festival 2022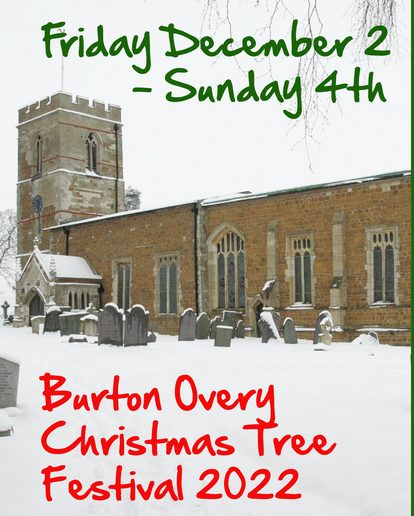 The Burton Overy Christmas Tree Festival is back. The Festival is celebrating its 21st year, after a break during the pandemic.
Over the years we have had 50-60 lit and decorated trees, with a huge variety of themes. Villagers, local individuals and groups have come up with such imaginative ideas. Many who visit the Festival on a regular basis are heard to say, "It's the start of our Christmas".
The Festival opens in the beautiful St. Andrews Church, Burton Overy on Friday 2 December at 10am. It is open until 6.30pm. Other times are Saturday 3 December 10 – 6.30pm and Sunday 4 December 10 – 5pm. The Village Hall will also be open at these times, providing, tea, coffee and cake. Entry still only £2.50, free for children.
There will also be a number of exciting stalls in the Village Hall, namely Handicrafts (Jayne Buckley); Knitted Items (Jane Dawson); Jewellery (Dot Jewellery); Handmade Fairies (Rattybatbats); Pictures (Tipperleyhill); Diffusers (Vintage and Bespoke); Antiques & Vintage (Flamma Decorative); Crystals (Crystal Harmony); Christmas Decorations (Pod Creative); Pottery, Plants and Garden Art (JARO Ceramics); Dog beds, Coats and Towels (Snoot Style); Beer (Langton Brewery); And also Burton Overy  with the Village Raffle.
The nominated charity this year is the Salvation Army. Other funds raised will go towards the upkeep of the church and village hall.
The Salvation Army will be playing on the Sunday afternoon.
To enter your tree go to the link- www.burtonoverypc.org.uk/christmas-tree-festival
Further information contact- burtonoveryctf@gmail.com.