Came Home
19th September 2022 |
Sport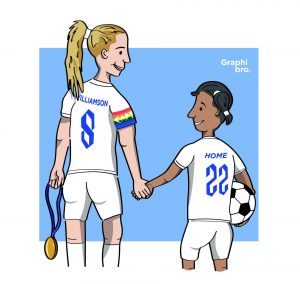 30 July 1966, was the first time it really did 'Come Home' for the England football team. Fast forward 56 years, after heartache and pain, England returned to its former glories. But, not in the traditional manner we would have expected it to all those years ago. 
Rise of Women's Football
 The rise of Women's football has been described as the fastest growing sport in recent times. According to 'The Guardian' the sport was played by 3.4 million women and girls last year. From the recent triumph of Leah Williamson (England women's captain) and the England squad, the sport will continue to grow. Fantastically, inspiring more children to take part in the beautiful game. 
Tara Kirk, 20, from Tur Langton has just signed on with Peterborough United women's football. I caught up with her to see how this recent victory had impacted her.
"A lot more people have taken an interest in women's football and we have gained a lot more respect from people."
She went on to say:
"The Lionesses made us proud and I believe that women's football will only become bigger and better." This already seems to be the case.
Unfortunatley I was unable to attend any of the Women's Euro this summer. But I watched and greatly enjoyed Leicester play Brighton in the Women's Super League last season. Granted, the attendance wasn't like a match day in the men's football, but the atmosphere certainly made up for it! A great burst of celebration as Leicester claimed a 1-0 home victory. It was a game full of chances and great quality going forwards.
 Alessio Russo's back heel goal, a screamer to win in extra time against Spain. Together with beating Germany with more than 17 million viewers in a final made it an unforgettable summer for English football! Jubilation as 'Sweet Caroline' blasted out of television sets. Polar opposite from last summer when Italy clinched the European title.
So I would like to thank the Lionesses. 2022 was the year football came home.
John B Williams