English Country Dancing – Fun and Friendship Set to Music
As autumn and winter approach are you looking for new pastimes and ways to meet people? Perhaps you remember country dancing at school, or enjoyed a Barn Dance/Ceilidh and would like to try other English dances?
Maybe you watch the genteel but passion-filled dances of the Georgian and Regency period in film and TV costume-drama, and imagine yourself dancing as Elizabeth Bennett or Mr. Darcy of Jane Austen's 'Pride and Prejudice'? Well, come and try English Country Dancing!
Burton Overy Dancers Folk Dance Club (BOD)
Each Wednesday evening, from September to June, Burton Overy Dancers Folk Dance Club (BOD) meet (8 – 10pm) in Burton Overy Village Hall to enjoy English Country Dancing. The club is an affiliate of the English Folk Dance & Song Society (EFDSS) and has run for almost 50 years.
BOD focuses on traditional and modern English country dances. And also embraces more lively American Square- and Contra- dances that derive from English country dances. We welcome dancers of all experience, including absolute beginners, and instruction is given by club members.
This is social dancing where dancers interact with others as the dance progresses, rather than dance with one partner as ballroom dancing or alone as line-dancing.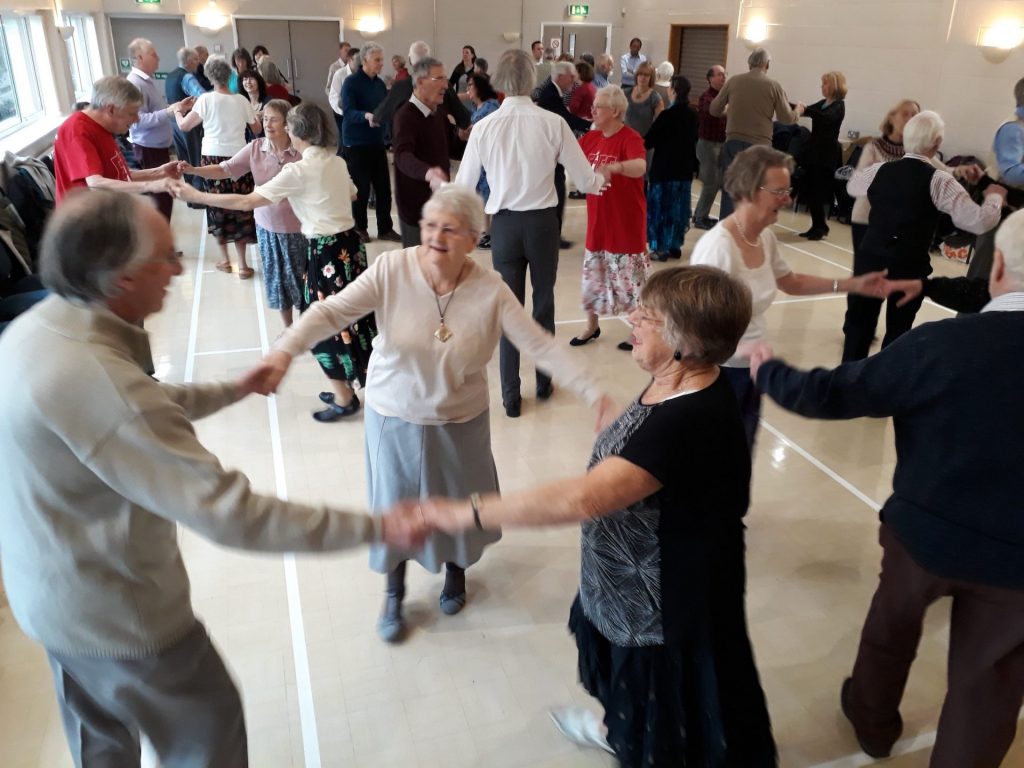 What to Expect from Country Dancing
Dances are conducted in formations of circles, squares and longways sets. They are generally at walking pace with occasional skipping and the dancers weave patterns with each other. Typically each lasts three to four minutes, so are not too strenuous.
All the dances are explained and walked through slowly to teach the moves before setting them to music, and then 'called' throughout. There are no requirements to learn complicated step patterns. Just the need to know 'right' from 'left' and 'forward' from 'backward' and to be ready to laugh – a lot!
No special clothing is necessary, just something loose and comfortable, and lightweight flat shoes. Nor do people need to arrive with a partner. Dancers mix and change partners during the evening so that w
Dancing is usually to recorded music with instruction given, and the dances 'called', by an experienced club member or visitor. Several times a year BOD holds ticketed balls and tea dances with live bands and callers of national reputation. Members also meet socially for meals, walks or theatre/concert trips.
Benefits of Country Dancing
Research has shown that regular dancing: keeps the mind agile; aids mental well-being; strengthens bones and reduces the risk of cardiovascular disease. Thus it improves general health. GPs have been recommended to include it in social prescribing as it delays the ageing process!
By taking up country dancing you will have good fun and make new friends. In fact English Country Dancing has been described as "Fun and Friendship set to Music". Why not go along to Burton Overy Dancers and join in the fun? You will enjoy it and meet friendly people.
Info about Burton Overy Dancers Folk Dance Club, can be found on the club's website at burtonoverydancers.wordpress.com. Or you can contact me (tel: 0116 279 3600; email: petermeacock112@btinternet.com).
STOP PRESS – TRY IT FOR FREE!
On Wednesday 5 October BOD will be holding a FREE evening for people who would like to try English Country Dancing. Venue Burton Overy Village Hall; time 7.30 – 10.00pm; tea/coffee and biscuits at the interval – and it's all FREE! Come along and give it a try.
Peter Meacock
English Country Dancing at Burton Overy Dancers folk dance club