What's going on?
There is much concern over two important 'businesses' situated opposite each other on Smeeton Road:
South Leicestershire Medical Group
SLMG have had their practices recently reviewed by the CQC (Care Quality Commission) and the results are not good. The CQC found that four areas – Safe, Effective, Responsive and Well-led all 'required improvement' in the latest a report published on 30 May. Only the area described as Caring was adjudged 'good'. The previous review took place in November 2014 prior to the merger of the two Kibworth practices when it was rated as 'good'. The announced inspection took place on 28 April. The full report is available on the SLMG website.
Kibworth Mead Academy
What has happened to Headteacher, Ms Emma Merry? The Academy's website tells us that Steve Piggot will be the Principal from September 2022. Currently the Principal's welcoming page has been written by Mark Oldman, Executive Principal (of the Mead Trust) and Simon Renshaw, Head of School.
Kibworth Harcourt Post Windmill
It is noted that the Windmill Farm Park FaceBook page has recently been showing photographs of newly installed tail-pole. This has been added to the recently restored, but not yet working, post mill. The windmill is Classified as a Scheduled Ancient Monument and a Grade II* listed building. It is not owned by the Farm Park but is the property of SPAB (Society for the Protection of Ancient Buildings). It is the only surviving post mill in Leicestershire. Please note all access to the Kibworth Windmill is across private land.
Planters near the roundabout
There had been comments that the planters near the roundabout in the middle of the village were falling apart and looked terrible. But only last week KBPC were seen replacing them. This is great news and the area will soon look beautiful again! Update: here are the transformed planters!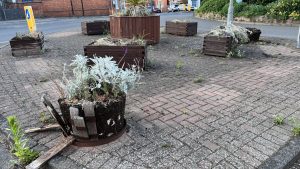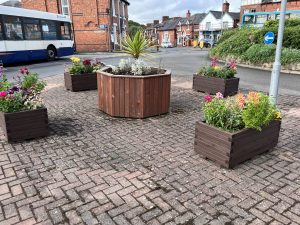 Platinum Jubilee celebrations
What do you think to all the festivities that took place over the Platinum Jubilee Weekend? Didn't we all enjoy ourselves? The villages were a picture as can be seen elsewhere in this publication and more online.
Finally…..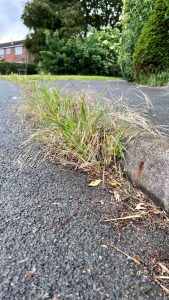 The pedestrian seems to be getting a bad deal. Money is being spent on resurfacing roads in preference to maintaining pavements. When are the gutters going to be cleaned as grass is literally growing under our feet! People came before the invention of the motor car and will probably be around when all the fossil fuel has run out. This neglect will only exacerbate any potential flooding situation as the excess rainwater will not find the necessary drains.
If you see something you would like to bring to the attention of our readers send us the information (via email)