A pleasant morning talking rubbish
It was certainly a pleasure to talk rubbish with South Leicestershire Wombles Maggie Warrington and Liz Gilbert on a beautiful morning in Mowsley. We were joined by Maggies's delightful grandchildren and Trainee Wombles, Alfie 6 and Lottie 5
The Wombles with their high vis jackets and pink or blue rubbish sacks are now a regular sight along the highways and by-ways. They're doing a brilliant job of keeping South Leicestershire tidy.
Beginnings
The group was formed in 2019 when Glen Parva resident Bob Lee spoke to two friends about his disgust at the amount of litter he had seen in fields hedges and lay-bys. They set up a Facebook page, inviting like-minded people to join and to post pictures of the litter they had collected. The group grew rapidly and is now 2,000 strong although not all members are active. It is believed to be the largest group in the country. It has inspired several other counties to set up similar schemes.
Group picks are organised on Sundays and Wednesdays via the Facebook page. Maggie and Liz prefer to be solo pickers who can go out whenever they wish. No-one has a designated area but I was told you quickly get to know where others tend to pick so people have a favourite "patch". Afterwards they notify Harborough District Council via the "Love Clean Streets" app and their vans come to pick up the rubbish sacks. There are also "Water Wombles" who clean up the canals and reservoirs.
Essential equipment needed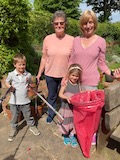 Liz and Maggie emphasised that good equipment such as strong shoes/boots, gloves and eye protection are important for protection against hazards such as broken glass, sharp branches etc. There is no group insurance or bank account so the Wombles' activity is undertaken very much at owner's risk. Good quality picker tongs are also very important as cheap ones easily disintegrate. I was assured that HDC have been very supportive and (when the budget allows ) can provide equipment including the high visibility jackets. Most councils are able to provide the refuse sacks and the collection facility.
Some of the chief litter strewing culprits apparently, are secret drinkers who leave empty vodka, wine and cider bottles stuffed in hedges. Fast food boxes, coffee cups, sandwich packs and crisp packets are commonplace. More sinister finds are: canisters of nitrous oxide, syringes, needles and a discarded gun. Dumped asbestos is often encountered as are various items of sex equipment! "You would be amazed by what some people get up to in lay-bys" I was told. Of particular concern is the threat to wildlife from discarded bottles and cans where trapped mice, birds and small hedgehogs have been discovered.
Maggie and Liz find their Womble colleagues' Facebook posts about their findings very amusing. Both were enthusiastic about their litter picking activities. Liz acts as co-ordinator and bag supplier for Wombles in this area. She commends the activity as beneficial to both physical and mental health as it involves being active in the fresh air and chatting to interested members of the public. She has made many new friends among the Wombles and encourages others to follow the group mantra "Action not words".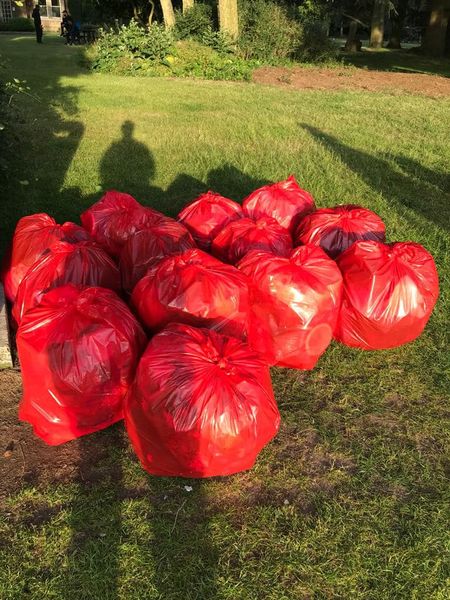 Dedicated Wombling
All the Wombles enjoy the recognition they get for their work, particularly the hoots from horns as drivers pass by. Maggie has since introduced 2 of her Grandchildren to litter picking near where they live in Market Harborough. Her 92 year old mother also enjoys taking part. Both Maggie and Liz said it had become a really important part of their lives. They take their picking equipment everywhere and even do some picking when on holidays. Both agreed that the litter situation is worse than they recall from previous years and far worse than in other countries such as Switzerland, Austria and Holland.
Liz feels that the lockdowns made the situation worse with home deliveries increasing. Sometimes bottles filled with urine have been among the things discovered! Poor facilities, especially toilets and bins (uncollected) are also to blame. People don't seem to challenge litter culprits anymore. That sense of pride in the countryside instilled during the "Keep Britain Tidy" years appears to have evaporated.
So what do the Wombles think can be done to improve the situation?
Invite Wombles into schools to talk about their work and why it is necessary. They are very happy to respond to invitations from schools and this can instil a sense of responsibility about litter from an early age.
Lobby for a system of returns on things like drinks bottles.
Get some equipment and keep it handy. Set an example and "Don't moan..do it! Action not Words!"
Lobby for fast food companies to be made more responsible for encouraging effective disposable of their containers.
It was a delight to speak to these enthusiastic and committed women. I felt so much admiration for the tremendous work they, their colleagues and very many others are doing. They are giving up their time and effort to make this area so much more beautiful.
Liz Gilbert is more than happy to discuss how to take part in Wombling with anyone who may be interested in supporting this work. Please contact her at: lizgilbert19@yahoo.co.uk
Carol Townend