The Bank? Square? Roundabout?
Readers are welcome to sing this to six verses of "While shepherds watched…"
Someone in Kibworth asked me what was happening in the Square?

Or rather wasn't happening now, just few fresh flower tubs there.

They noted how in years gone by such colour and great flair;

But now less tubs and some of these forlorn needing repair.

I shared this view and with my friend remembered years when CARE

At Shangton workshop planters made and outside garden where

The flowers were grown each year for CARE`s, late May Fayre

And extra plants were also grown – with Kibworth they would share.

However, sadly, COVID came two years ago to tear

A stop to coming out to us to sell their floral ware.

I`m told new planters do exist. For those beyond repair

With plastic seal to be secured, but no one's time to spare.
Singing readers, at this point, change to one verse of 'Doe a deer…'
That is what I understand – but I may have got it wrong.

Anyhow it helps me maintain the metre of this song.

Forms to fill, computer mode – That's the bureaucratic load.

So, can blossoms still be showed? With the help of Fleckney Road?
Roger Garratt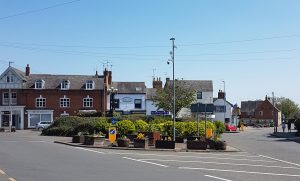 What better tribute to the memory of the late Joan Spain could there be than KBPC funding her family's Kibworth Garden Centre to do it?