Leicestershire National Garden Scheme
Open Gardens in June 2022
June is a busy month for the National Garden Scheme. There are 20 gardens bursting with summer colour opening across Leicestershire. We have a great variety of gardens from country house to group openings and allotments. For full details about all of our Leicestershire open gardens including accessibility, entrance fees, dog friendly gardens, and pre booking, please visit www.ngs.org.uk
Opening every Wednesday afternoon from 2-4.30 pm throughout June is Stoke Albany House, Desborough Road, Stoke Albany, Market Harborough LE16 8PT. This is a four acre country house garden with wide herbaceous borders. In June there will be a good display of roses, and the walled grey garden and nepeta walk arched with roses, will be in flower. There are also garden sculptures, a Mediterranean garden, heated greenhouse, potager garden with topiary, and a water feature. In recent times the owner has been planting more trees and shrubs, adding to the existing mature collection including an Atlas cedar and American pines.
On the 3 June, Mountain Ash, 140 Ulverscroft Lane, Newtown Linford LE6 0AJ, opens from 11-5pm. This two acre garden is set in the Charnwood countryside and features include patios, a water feature, flower and shrub beds, a fruit cage, fruit trees, greenhouses and vegetable plots. Lawns slope down to a large wildlife pond with a waterfall, a gravel garden and three small areas of woodland with pleasant walks through many species of trees. There are about 50 garden statues and ornaments placed around the garden. In addition, there will be five stalls to browse selling plants, old tools, Flamingo Paperie, greeting cards, gift wrap, a Wildwater Ponds stall and another with scented candles.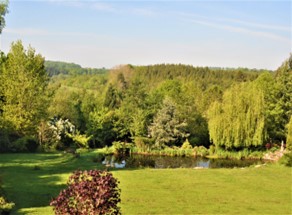 Sweeping views from Mountain Ash Garden
On 15 June, Thorpe Lubenham Hall, Farndon Road, Lubenham LE16 9TR, opens from 10.30 to 4.30. There are 15 acres of garden with a great range of herbaceous planting including alliums, peonies, nepeta, digitalis, geranium, campanula, and lots more, including wisteria and roses. Many of the summer flowering shrubs will be at their best and there are wilderness walks amongst some magnificent trees with spectacular views to open country.
In South Kilworth on 18 June, Oak Tree House on North Road LE17 6DU, opens from 11-4pm. This garden has colourful herbaceous planting including dahlias, fuchsias, cosmos, heleniums, and lots of brightly coloured annuals which self-seed around the garden. There is a pergola decked with clematis and roses, an ornamental pond and vegetable plots. This garden is owned and opened by the county lead for Leicestershire NGS. Should you be thinking of opening your garden, this would be a good opportunity to have a chat and find out more. Plants grown from cuttings and seeds by a local NGS member will be on sale. This is an eco-friendly way to add locally raised plants to your garden stock.
On Sunday 19 June, Silver Birches, 82a Leicester Road, Quorn, LE12 8BB, opens from 11am-5pm and features ½ acre of garden leading down to the picturesque River Soar on which swans and ducks can frequently be seen sailing past. In this garden roses are in abundance and enhance all areas of the garden, scrambling through borders and over walls, arches, and fences. The wildflowers will be at their best in June. There is a mown path that leads through masses of foxgloves, campion, daisies, and teasels framed by tall flowering grasses.
Brickfield house, Rockingham Road, Cottingham, Market Harborough, LE16 8XS, opens for the first time on 24 of June from 11-4pm. This two-acre garden has lovely views overlooking the Welland Valley, and includes a kitchen garden, an orchard, herbaceous borders filled with roses, perennials and shrubs. Many pots filled with succulents, herbs and colourful annuals decorate the garden.
On 26 June,at 52 Scotland Road, Little Bowden, LE16 8AX, Westbrooke House garden opens from 10.30-5pm. There are six acres of gardens approached through a tree-lined driveway of mature limes and giant redwoods. This garden features a walled flower and kitchen garden, fernery, wildlife pond, lawns, woodland paths and a meadow with a wildflower area, ha-ha and hornbeam avenue. If you are interested in growing fruit and veg, why not visit The Secret Garden at Wigston Framework Knitters Museum. The walled garden has been restored recently and is packed full of all types of veg and soft fruit. It opens on 11 and 12 June between 11-5pm and is at 42-44, Bushloe End, Wigston, LE18 2BA.
In addition to these gardens there are another 12 gardens opening throughout June. Visit our website at www.ngs.org.uk for more details. We look forward to welcoming you.
Carol Barlett
Volunteer Press Officer
Leicestershire National Garden Scheme07879891007