Story of England – Michael Wood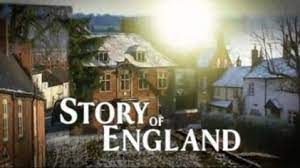 Are you watching/rewatching/re-acquainting yourself with the 2010 Maya Vision production of  The Story of England currently being rebroadcast on, free to you and I, BBC FOUR on Thursday evenings and also on BBC iPlayer..
Were you one of the children at Kibworth High School (as it was known in then) who took part in the digs around Kibworth and Smeeton? Please let us know what it is like now you are 12 years older. What has the intervening period brought you? Are you excited seeing yourself on television or just embarrassed?
Let us know by emailing our editor.
theeditor@kibworthchronicle.com
This is a most interesting series on the History of Kibworth (or should I say England) and it is obviously no fluke Kibworth was chosen for this project especially having almost continual records going back to the twelfth century.
The latest streaming of the programme lasts only 30 days on BBC iPlayer so unless you have the DVD of the entire series it will be gone from our screens soon.
Did you see the lay up of the Kibworth & District Chronicle featured in programme one?
SjP