Macmillan Cancer Support Infopoint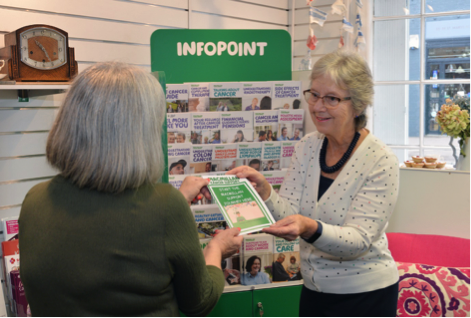 The Market Harborough Group of Macmillan Cancer Support is delighted that they can now re-launch the INFOPOINT that is sited at the Home Instead premises in Market Harborough.
Local care provider Home Instead teamed up with Macmillan Cancer Support to offer a welcoming place to those affected by cancer to get much needed information. Information may include where to get financial support and local services, along with useful booklets on specific cancers. For many, going to the LRI or accessing the Internet is not always easy.                                                        
Find us at:
The INFOPOINT can be accessed at the Home Instead premises found at
32 St Mary's Road, Market Harborough LE16 7DU (next to car park) between 10.30am – 4pm Monday to Friday, and 10.30am – 2pm on Saturday.                
More information on 01858 540317
Eunice Loney
Chairman, Market Harborough Group
Macmillan Cancer Support