Kibworth Cricket Club
The Kibworth Cricket Club 2021 season came to a close with the 1st XI adding the Premier League title to the County Cup. Double winners for the season, we celebrated in style and apologies to anyone witnessing players still in whites in the early hours on a Sunday morning! 
Our presentation night has also been and gone as we celebrated the success of players across all our teams.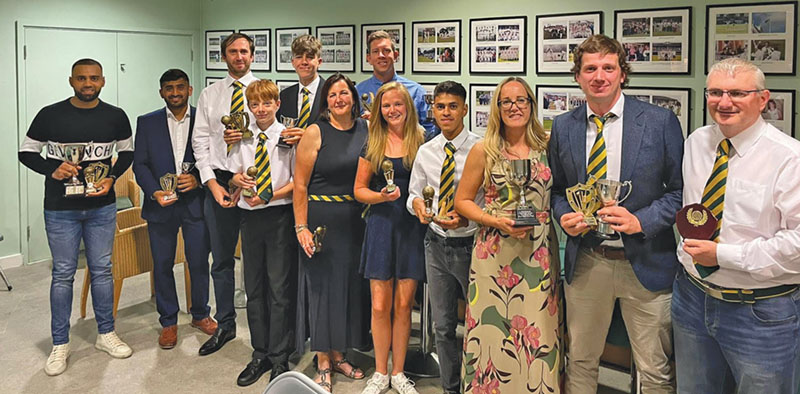 Batting:
1st XI Matthew Craven – 1046 runs / av. 55.05
2nd XI Richard Jackson – 627 runs / av. 44.79
3rd XI Johnny Hanger – 643 runs / av. 45.93
4th XI Ben Matthew – 921 runs / av. 65.79
Women's XI Ali Wall – 187 runs / av. 20.78
Bowling:
1st XI Aadil Ali – 53 wickets / S.R. 23.30
2nd XI Daniel Broughton – 25 wickets / S.R. 29.40
3rd XI Ellis Hanger – 30 wickets / S.R. 21.93
4th XI Oliver Stone – 26 wickets / S.R. 20.88
Women's XI Lara Barratt – 15 wickets / S.R. 17.67
Players' Player:
1st XI Aadil Ali
2nd XI Akash Bhakta
3rd XI Ellis Hanger
4th XI Ben Matthew
Women's XI Emma Walker
Performance of the year:
Matthew Craven – 105 not out v Langtons. (In the semi-final of County Cup.)
President's award:
Yuvi Patel – 10 wickets with S.R. 24.70
Demonstrating great attitude, effort, and resilience.
Clubman of the year:
Adam Meads
Non-playing member:
Cory Laywood
Long Service:
Steve Thompson
Our volunteers make the club and enormous thanks go to everyone that has helped make Kibworth Cricket Club the best place to play, learn and watch cricket.
The club remains open through the winter, every Friday night from 5pm and we hope to bring in street food vendors to offer some great options for the village. We will also be hosting kids Halloween and Christmas parties. Please do keep an eye on social media for the latest goings on at Kibworth Cricket Club. 
Kevin Messenger