East Midlands Immediate Care Scheme
Immediate Care on Your Doorstep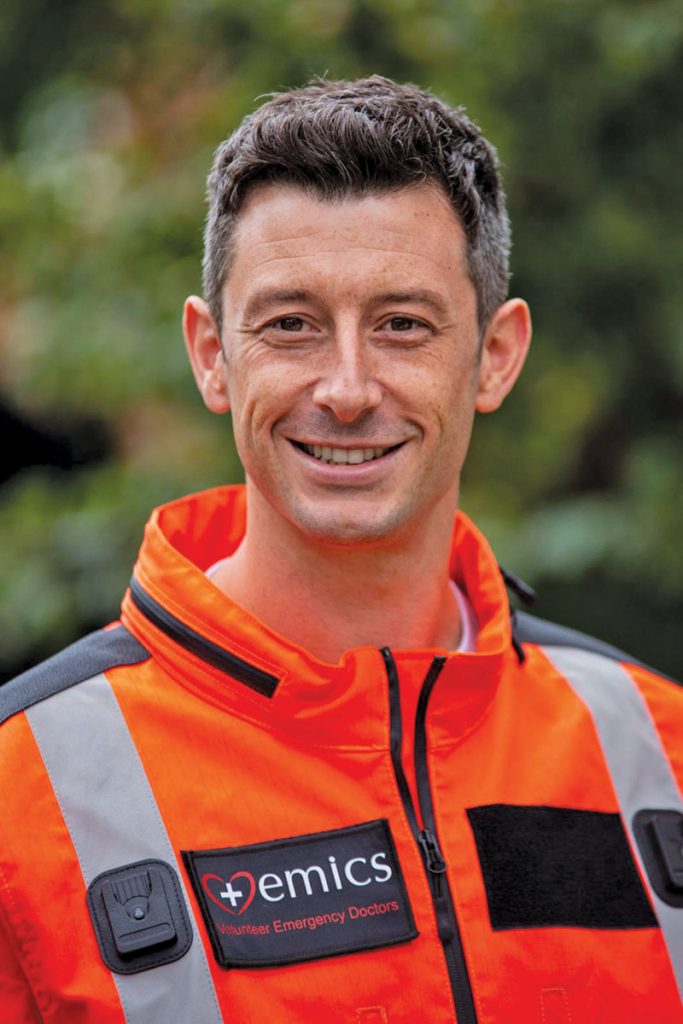 My name is Dr Chris Bonham, a resident of Kibworth, and a new member of the East Midlands Immediate Care Scheme (EMICS). I am an Army GP trainee with previous training in anaesthetics and critical care. As a result I have a keen interest in pre-hospital emergency medicine.
EMICS is a network of volunteer doctors with specialist training in pre-hospital emergency medicine who assist East Midlands Ambulance Service (EMAS.) Assistance may be at the scene of life threatening emergencies, such as cardiac arrests and road traffic accidents.
Immediate Care by volunteers
EMICS doctors provide advanced specialist skills and interventions at the point of accident or critical illness. Operating across Leicestershire, Rutland, Derbyshire. Nottinghamshire and Northamptonshire, a geographical area of approx. 4000 miles, we turn out at all hours, in all weather conditions, 365 days a year. Support is all provided on a completely voluntary basis, in addition to our normal NHS commitments.
Our Doctors provide this service because we believe that bringing these specialist interventions forward to the patient before they reach hospital gives them the best chance of survival. Often responding from our own home means that we are using our skills to care for those in our local community that need us most.
The support we offer to EMAS is provided completely free of charge to the NHS. Our doctors arrive at scene carrying all their own kit and medications, funded entirely by the charity.
No central costs
EMICS receive no government or NHS funding and are 100% reliant on charitable donations. There are no central staff costs, including our administrative and support team. Every person who is part of the EMICS team is a volunteer. Funding for all of our work is through donations, fundraising and partnerships with local business. With all the money going towards providing EMICS doctors with life-saving drugs and equipment.
If you would like to find out more about the charity, what we do, or some of the jobs we attend, please visit www.emics.uk or find us on social media at @EMICS999
We are always looking for people to support EMICS. If you would like to get involved, either as an individual, community group or local business we'd love to hear from you. Please feel free to contact me at https://chris.bonham@emics.org.uk if anyone has any further questions.
Chris Bonham