'JAMES BOND' Saves Lives!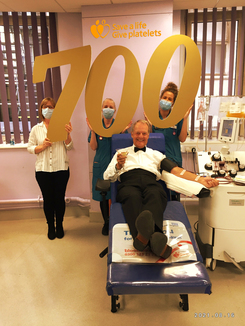 Kibworth resident and regular Blood Platelet Donor, Alan White, decided to have some fun with his 700th donation at NHS Blood Donation (Birmingham) this week by dressing up as James Bond!
"I had this idea of swapping the digits around and creating a '007' picture theme."
With help from his daughter, Melanie, along with the brilliant staff at Birmingham Blood Donor Centre, the whole event and photos turned out really well. Alan also happens to be a member of the official Aston Martin Driving Experiences Team.
When taking his haemoglobin test prior to donating, Alan said, "Today, I suppose I had a Goldfinger!" Also relevant is the 'No Time To Die' James Bond film, due for release in October.
Alan White