A week of climate action hope and celebration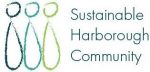 A flash flood in Kibworth and as I write, we're having a heat wave. And a public inquiry has just begun into the proposed opening of a deep coal mine in Cumbria that conflicts with the Government's proposal to reach net carbon by 2050.
Are there any signs of hope anywhere?
Great Big Green Week
The good news is that there are plenty of signs of hope and lots that we can do with many of us changing our lifestyles because of it. To celebrate and to inform, Sustainable Harborough Community are joining with the national Great Big Green Week 18 – 26 September. We are doing this in conjunction with Eco Village and have many events planned plus a day of celebration and information in Harborough town square on 25 September. Go to
sustainableharboroughcommunity.co.uk
Our own Kibworth Bookshop will be having a window display and focus on books to help us understand more.
People say to me 'But what difference can one person's changes in lifestyle make?' Remember how Café Direct started with their fairly traded coffee? It is a greatly improved product today and fairly traded coffee is now sold by all the main supermarkets because so many people wanted the suppliers to have a fair wage. Or think how many meat alternative meals and recipes there are now and wind farms supplying local energy because many more people are now taking the climate emergency seriously.
At our Big Green Week celebration on 25 September I'll be at the Eco Churches Wave of Hope stall. I hope you come and say hello.
Julie Fagan