The Road to Wimbledon.

This is a singles competition organised by the Lawn Tennis Association(LTA).The winner of the club competition will take part in a County competition at the beginning of July. The winner of this event will then play at Wimbledon!The competition at the club took place during half term.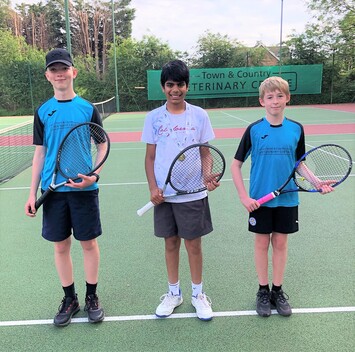 The picture shows the top three winners. All the best at the County Finals
Summer Holiday Tennis Fun for Kids aged from 5 to 18!
There are a lot of opportunities for kids to play tennis at Kibworth Tennis Club during the Summer Holidays! There will be sessions for preschool children. Beginners from the ages of 5 to 11 are included. Whilst full match team events for children aged 6 to 18 are also available.
More information about the Summer Holiday sessions can be found on the club website www.kibworthtennis.co.uk.