Yoga teacher retires and starts fundraising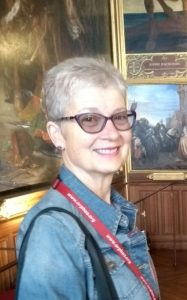 Celia Herrick is a Kibworth based British Wheel of Yoga teacher who has taught Yoga for twenty-eight years, predominantly in Kibworth but also across South East Leicestershire, including Drayton, Smeeton Westerby, Great Glen, Oadby, Leicester, Market Harborough and Hallaton.
She mainly taught adults, although she also taught short courses for secondary school pupils and one-off sessions for Brownies and Cubs, covering an age range from seven to ninety plus years.
There has been a lot of fun along the way – not least the time when a gentleman accidentally brought his semi-hibernating tortoise along to a class in his sports bag! Over the last three years Celia has had breast cancer and, more recently, two minor heart attacks and a bout of COVID-19. Fortunately, thanks to excellent medical care, she is well on the road to recovery but she has now retired from Yoga teaching.
Spontaneous Coronary Artery Dissection
The heart attacks were not caused by blocked arteries but by a fairly rare, congenital heart condition called SCAD. SCAD stands for Spontaneous Coronary Artery Dissection.
What happens is that a spontaneous collection of blood occurs within one or more coronary artery walls thus restricting the blood flow to the heart, and it can be fatal. SCAD accounts for approximately two to four per cent of all heart attacks, are often under diagnosed, and the vast majority of SCADs occur in women, particularly young, otherwise healthy women.
We are very fortunate to have one of the UK's leading SCAD experts, Dr. David Adlam, based here at Glenfield Hospital in Leicester. Patients from all across the country are referred to him for diagnosis, and he is very involved in the research into SCAD.
To mark previous milestones Celia organised Mad Hatter Tea Parties at Kibworth Grammar School Hall for her students, in order to fundraise for charity. The Covid restrictions made that impossible so instead she organised online Tea Parties for her students via Zoom.
Just giving donation request

She has also set up a Just Giving page in aid of the charity Beat SCAD, which aims to give support to people who have experienced a SCAD event, to raise funds for research into the causes of and treatments for SCAD, and to disseminate information about SCAD to health professionals.
The Just Giving page will be active until 30 April and so far over £800 has been raised. If you would like to help please could you make an online donation to www.justgiving.com/beat-scad
Alternatively you could send a cheque payable to "Beat SCAD" directly to Beat SCAD, 41 Rudd Way, Wingerworth, Chesterfield S42 6UX.
Celia would like to give a big thank you to the amazing teachers who trained her, to the staff at her class venues, and to all her students, past and present (who she thinks must by now run into several hundreds) for all their help, support, love, humour and loyalty over the past twenty-eight years, and says she has been honoured to have met and worked with so many wonderful and inspiring people.