Isobel Cullum – Looking Back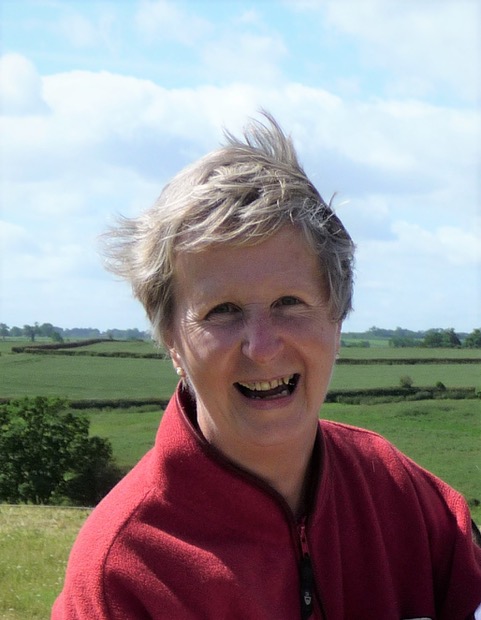 The Kibworth & District Chronicle is very sad to report that Isobel Cullum, for over 30 years a dedicated member of the Chronicle team, passed away on 27 October, aged 71.
Isobel grew up in Kibworth and went to school in Kibworth and Church Langton. Her family ran Gardiner's Butcher's Shop in Kibworth Harcourt and Isobel recalled delivering meat around the district in her younger days. After school, she trained as a touch typist and worked for British Enkalon in Leicester. In 1971, Isobel married David Cullum at St Wilfrid's Church and they set up home in Kibworth. Isobel was very proud of their daughter Helen, a Program Director at Oracle, their son David, Parks and Gardens Manager at Boughton House, Northamptonshire and grandchildren James and Alice.
Isobel's involvement with the Chronicle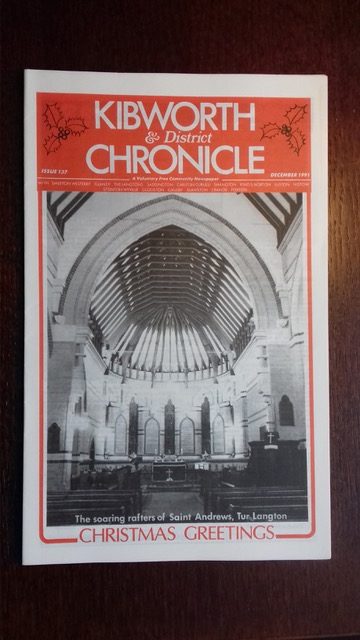 Isobel and Helen first became involved with the Kibworth & District Chronicle in 1988. Helen became Junior Editor and did artwork for the advertisements; Isobel soon joined the Management Committee and went on to become Photographer. I remember accompanying her to photograph the Rose & Crown sign on the A6. She commandeered a ladder from a passing council worker in order to get the best shot. At Roger Garratt's instigation, she also took a stunning photograph of the interior of St Andrews, Tur Langton for the Christmas 1991 cover of the Chronicle(see page 12).
Isobel was very supportive of Judith Larratt who became Editor in January 1989. She became a regular presence over the years at Saturday pre-lay-up, assigning articles and photos to the most appropriate page. In the summer, we sometimes migrated to Isobel's airy kitchen at Sulby, where she and David later lived, for pre-lay-up. She always had an eye for design and at Sunday lay-up was ever willing to help newcomers with sorting out the articles and photographs on their page or to work together with another layer-up on a challenging double-page spread.
Isobel's 'Looking Back' articles
One of the most popular Chronicle items was Isobel's 'Looking Back' articles, which always had a good response from readers. The Congregational Church was the subject of one of her earliest double-page spreads. I remember visiting the Church with Isobel just before it closed; we found an abandoned hymn book with the name of a former Sunday School member poignantly inscribed inside.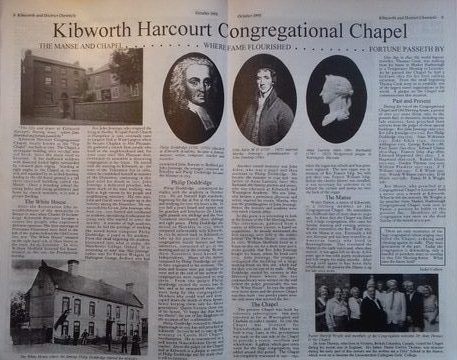 Later, she wrote and designed features on subjects such as 'The Origins of our Village Names'; 'Johnson & Barnes'; 'The History of a Harcourt Shop', which talks about her parents' shop; 'George Lynn's Grocery Shop'; and 'Life of a Country Boy', about Trevor Plews of Smeeton Westerby. What was to be her final article appeared in the October 2020 issue: items from the Kibworth News and Forces Journal issue for Christmas 1945. Two of the items caught the eye of a reader: they recorded the births of two of her school friends!
Michael Wood interviewed Isobel for his 2010 television series 'The Story of England', talking about Rev. John Jennings and the establishment of a non-conformist church in Kibworth, and the Kibworth News and Forces Journal.
Despite ill health over recent months, Isobel continued to take a keen interest in the Chronicle, enjoying contacting volunteers to check their availability for lay-up and commenting on the photos and appearance of each issue.
Isobel's skills and experience have been invaluable to the Chronicle over the years and her local history articles have given much pleasure to readers. She will be very sadly missed.
Jean Emeny