First patient Covid vaccines commence at Leicestershire GP practices
Health leaders in Leicester, Leicestershire and Rutland (LLR) are pleased to announce the beginning of the local Covid vaccination programme from GP-led locations.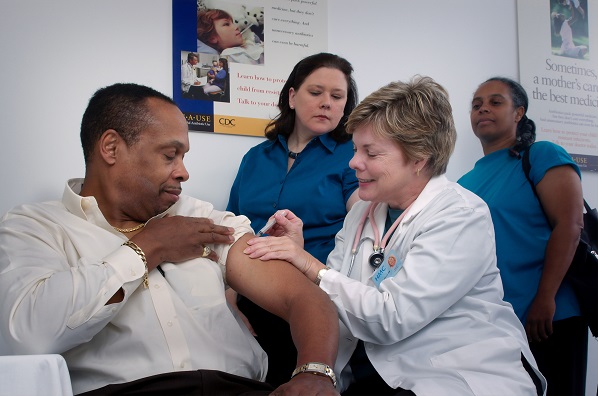 From this week, eligible patients registered with 13 GP practices in Leicestershire will be amongst the first to receive the ground breaking Pfizer Covid-19 vaccination from GP-led vaccination centres. Vaccinations will initially be administered by two groups of GP practices, known as primary care networks. More are expected to open across LLR in the coming weeks. One practice will generally provide vaccines on behalf of all practices in the group.
Nurses, paramedics, pharmacists and other NHS staff will work alongside GPs to vaccinate those aged 80 and over, as well as care home workers and residents, identified as priority groups for the life-saving vaccine.
Two primary care networks, Bosworth and Millennium, will be the first groups of practices in LLR to commence vaccinations for their patients, starting from Wednesday.
"We are delighted to be among the first areas in the country to get the GP-led part of the vaccination programme underway. All our 25 primary care networks locally will be involved in delivering vaccines as the rollout progresses.

I would like to thank them for all their hard work to make this happen for local patients, alongside delivering flu vaccines and their usual care and services. It is important to recognise that this is the start of a long journey in the fight against coronavirus.

We must all continue to remain vigilant and follow local Covid alert level restrictions and social distancing guidance while the vaccine is rolled out to all population groups."

Caroline Trevithick, Executive Director of Nursing, Quality and Performance for the Leicester, Leicestershire and Rutland clinical commissioning groups
The vaccine is typically delivered by a simple injection in the upper arm. Two doses of the vaccine are required, three weeks apart, to achieve protection against coronavirus. In advance of receiving their vaccine, patients can read more information in the leaflets available on the .gov.uk website.
Some vaccinations will take place on GP practice premises and others will be at community vaccination centres, for example in council buildings.

You will be contacted by your GP practice to book your vaccination when your turn comes and you will be advised where you need to go. Please do not contact your practice enquiring about the vaccine before then. It is also particularly important that you attend for both doses of the vaccine

Caroline Trevithick
"I am delighted to be one of the forerunners in the community vaccine programme. We can start to bring hope to the older generation of our patients who have been most affected by the pandemic. Our four practices have pulled out all the stops to prepare for the vaccine and I would like to thank them for everything they have done. It is a very proud moment."

Dr Will Priestman, GP and clinical lead for Bosworth Primary Care Network
"I am proud that Millennium Primary Care Network are up and running with our vaccination programme. We are relieved that the most vulnerable patients in our practices will, in a few weeks' time, be protected against Covid-19. All our practices are in Leicester city and so our patients in particular have been living under the most severe restrictions for a considerable period of time. It has been a very difficult for many of them being separated from family and feeling anxious about catching the disease."

Dr Gopi Boora, GP and clinical lead for Millennium Primary Care Network, who will be administering the first vaccine himself.
For further information about Covid vaccinations visit: https://www.nhs.uk/conditions/coronavirus-covid-19/coronavirus-vaccination/coronavirus-vaccine/.