The Kibworth Parish Councils August 2020
This is unusual, to get a joint report from both Kibworth Beauchamp and Kibworth Harcourt Parish Councils in one article!
Contrary to some opinions, the two parish councils work together closely on a number of matters while still retaining individual responsibilities and priorities.
Both have been holding their monthly, online meetings using the Zoom collaboration tool since April, except for the July walkabout that Kibworth Harcourt traditionally hold.
Warwick Park play area

It was good to see all of the four play areas across the two parishes, open again for families with young children. The Warwick Park play area, between primary school and railway line, has shiny new green fencing with bright red gates and a little more space for play. It also has some new litter bins and benches, while other tired benches have been given a new lease of life.
The story of the season so far has to be when Kibworth Fire Station officers were called out one evening to safely extricate a Year 8 (aged 12 or 13) person who had become wedged in one of the baby swings!
The other three play areas include the Smeeton Road Rec play area by the tennis courts, the Polwell Road play area on the Kibworth Meadows estate and finally the Jubilee Green play area on Main Street in Kibworth Harcourt with the four items of adult exercise equipment being used regularly now better weather has arrived.
MUGA
After a weekend delay for rain, the Multi-Use Games Area (MUGA) was finally handed over to the Kibworth Joint Recreation Board on Monday 27 July.
The tar macadam surface had to be left for about three weeks, after initially being laid, so that it could prove, and then the contractors sprayed the surface green and added the lines for basketball and football activities. The top five barred gate, used by the contractors to access the site to mow the grass banks, has been chained shut.
This is to help prevent people using the MUGA as a short cut and from taking their dogs through. The MUGA was funded entirely from section 106 developer contributions from the Kibworth Meadows estate and we would like to ensure it is used safely for outdoor games for all ages.
We are considering having a new bench in the area, but need to be sure it is not just going to be a magnet for rowdy behaviour like the former skatepark became notorious for. The MUGA contractor has cautioned that heavy objects such as benches or garden furniture could damage the surface, so please don't bring those onto the court.
We hope that this new facility will be well used by the whole community. The parish councils have not forgotten that we need to identify, and then plan for and fund, a replacement skatepark and a couple of possible locations are being discussed with landowners. More news about this in due course.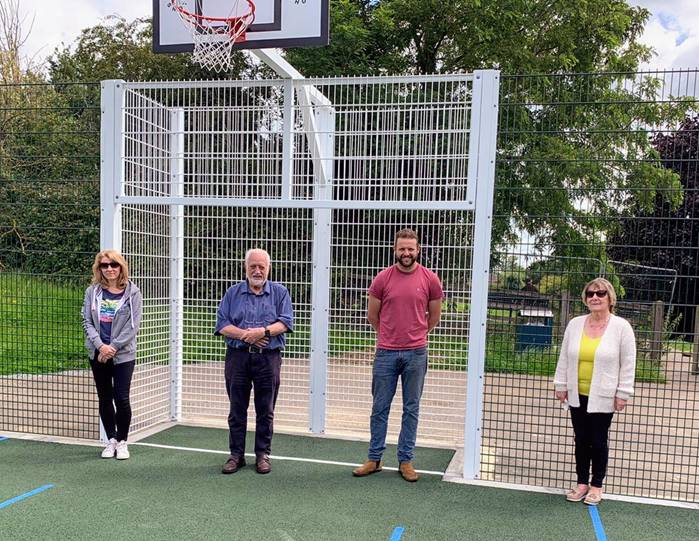 Coloured Rocks
Over the summer, those walking by the north side of the tin bridge may have spotted a growing row of multi-coloured and plain pebbles or stones. I counted 428 a week or so ago. It has grown in length after one of the children in the village started this 'snake of pebbles'.
A number of ideas have been floated about what could be done to preserve them. Where they are is making it tricky for maintaining the wild area and some of the pebbles have been knocked out of position into the long grass. The parish councils would very much like to create a specific spot to have them moved to, and therefore make a permanent artistic reminder of this unique year.
One idea has been to ask a local artist to design and perhaps cement them into a coiled snake shape close to the Warwick Park play area, and another is to cement them and retain the long snake. What do readers think?
COVID-19 Funding
Kibworth Beauchamp Parish Council applied for a grant from the Leicestershire County Council Community Fund and received some funding in May 2020 to help support local services affected by the coronavirus pandemic.
After an initial suggestion of lending tablets to vulnerable families didn't result in any takers, it was suggested that we provided some funding to both schools to help with disadvantaged children.
In addition, a supply of locally made cloth, washable face masks have been purchased. On Saturday 8 August, 74 masks were given out in the Kibworth Grammar School Hall car park off School Road from 11am, and the demand is such that more are being purchased.
We will once again be offering them, to those 12 years old and over, on Saturday 15 August from 11.30am until 12 noon in the same location. Although supplies purchased by the parish council are limited, please request any for yourself by email to deputyclerk@kbpc.org.uk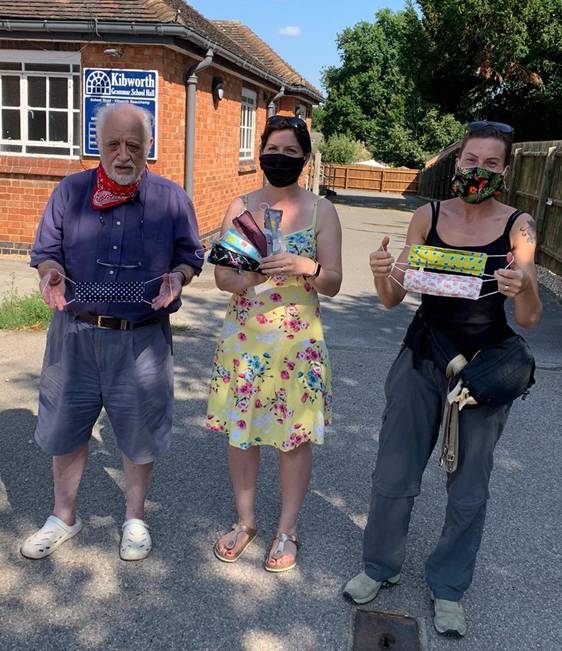 Anti-social behaviour
One of the key topics both parish councils receive reports about and discuss frequently are incidents of anti-social behaviour (ASB). The parish councils work with Harborough District Council's Community Safety Partnership and the local police, as they have the responsibility and resources to react to the incidents.
One particular noisy few nights in late July resulted in calls to 101 (police non-emergency phone number) and our local police officer then visiting a house to point out that after 11pm and before 7am, reports of statutory noise nuisance had been reported over several nights in succession.
Profuse apologies were given, and the residents have also visited neighbours to apologise. A satisfactory conclusion, and hopefully a lesson learnt about the value of phoning 101 to report an anti-social behaviour incident and of obtaining an incident reference number. Social media is no substitute.
Litter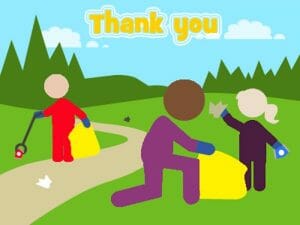 Another aspect of anti-social behaviour is litter. No matter how many bins are provided, and emptied, there seems to be a steady stream of litter being left on streets and the parks. Kibworth Beauchamp Parish Council employ Steve Brown as the street orderly for the centre of the village; many will have seen him with his cockatoo!
A number of residents have taken it upon themselves to go out and pick up litter and we are very appreciative of their voluntary work. To try to organise specific hotspot locations and encourage more volunteers, the parish councils have been able to borrow sets of hi-vis vests, gloves and litter pickers to lend to those willing to help.
A volunteer Litter Picking Policy gives safety guidance and is available, with the litter picking kits and bags, if you email Helen, at deputyclerk@kbpc.org.uk with your contact details.
We are also planning to work with the Kibworth & Fleckney Rotary Club, who also arrange litter picking days, so together with the other volunteers, we can hope for a flurry of Kibworth Wombling outings as the nights drawn in!
Currently, we have arranged with Harborough District Council for full bags of litter to be stacked behind the yellow grit bin at the entrance to the Kibworth Grammar School Hall car park from where they can be collected.
ASB covers more than noise nuisance and litter, and the parish councils are drafting a local action plan to discuss with both HDC and the police. Although the parish councils do not have statutory responsibility or the resources for dealing with ASB, we can put in place some positive actions to alleviate some of the bad behaviour that is being reported to 101.
We would also like to outline our action plan in future issues of the Kibworth & District Chronicle.
Kevin Feltham (Kibworth Harcourt and Kibworth Beauchamp parish councillor)